In order to create a Jackpot campaign, watch this tutorial:
Or just follow the steps below:
1. Create a new campaign
You will find the Jackpot campaign type in "Instant Wins"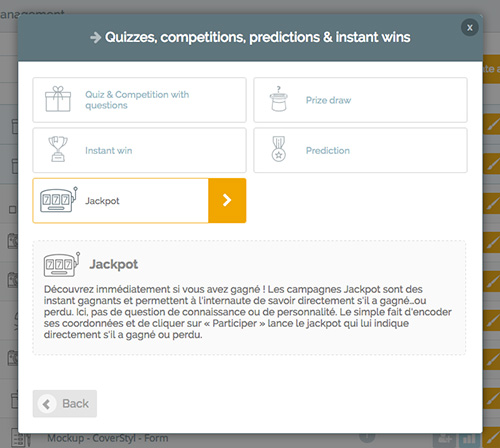 2. Add a prize
In the step 'Jackpot', click on 'Add a prize to the list' to start customizing your Jackpot: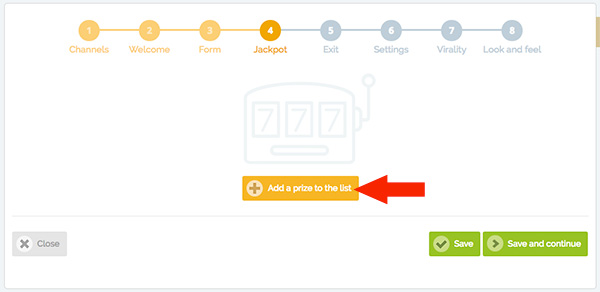 Once you've validated your prize, the page should refresh and display 2 accordions (Selection of the Jackpot images & Look and feel of the Jackpot) and an additional option box: Add a teaser jackpot on the welcome screen.
The teaser jackpot is fully functional but the participant will always loose. Its only purpose is to be much more engaging for your participants (who would refuse a second try!?) and to easily provide an illustration for your welcome screen. Note that you MUST add content in your introduction screen to see the fake Jackpot.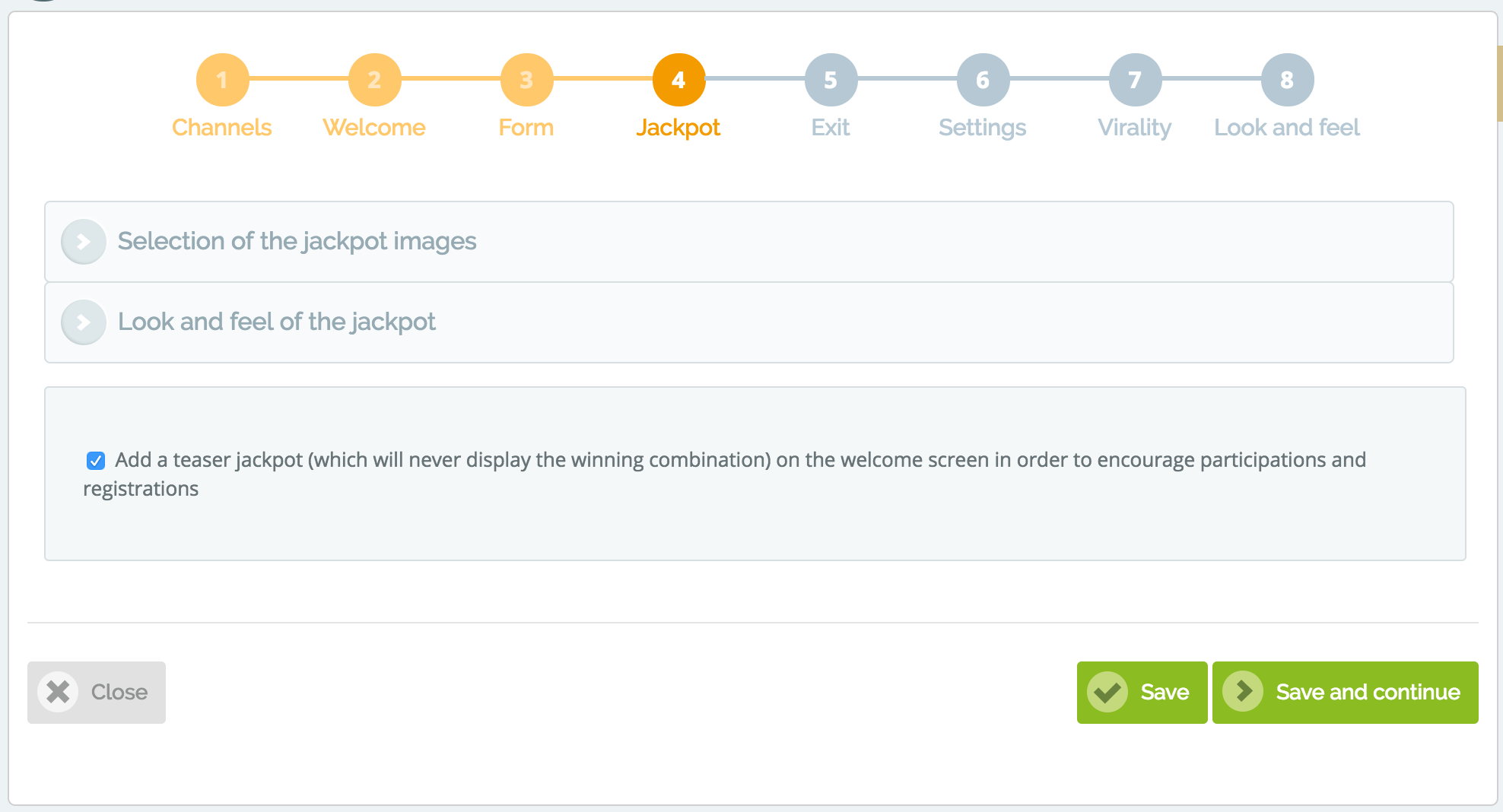 3. Selection of the jackpot images
Your prize will appear on the left side of this section.

Step 1: Select a winning image
That image will become the winning combination to earn your prize. Here we selected the image of a "7".
Note that you have the possibility to upload your own winning image.

Step 2: Select your loosing image(s)
By default, only 1 loosing image is available, which means in our example that our Jackpot is only made of a "7" and one other image —in this case, that of a clover.
If you want to add more loosing images, simply click on the button 'Add an image' to unlock a new library and customize your second loosing image. You can add as many loosing images as you want.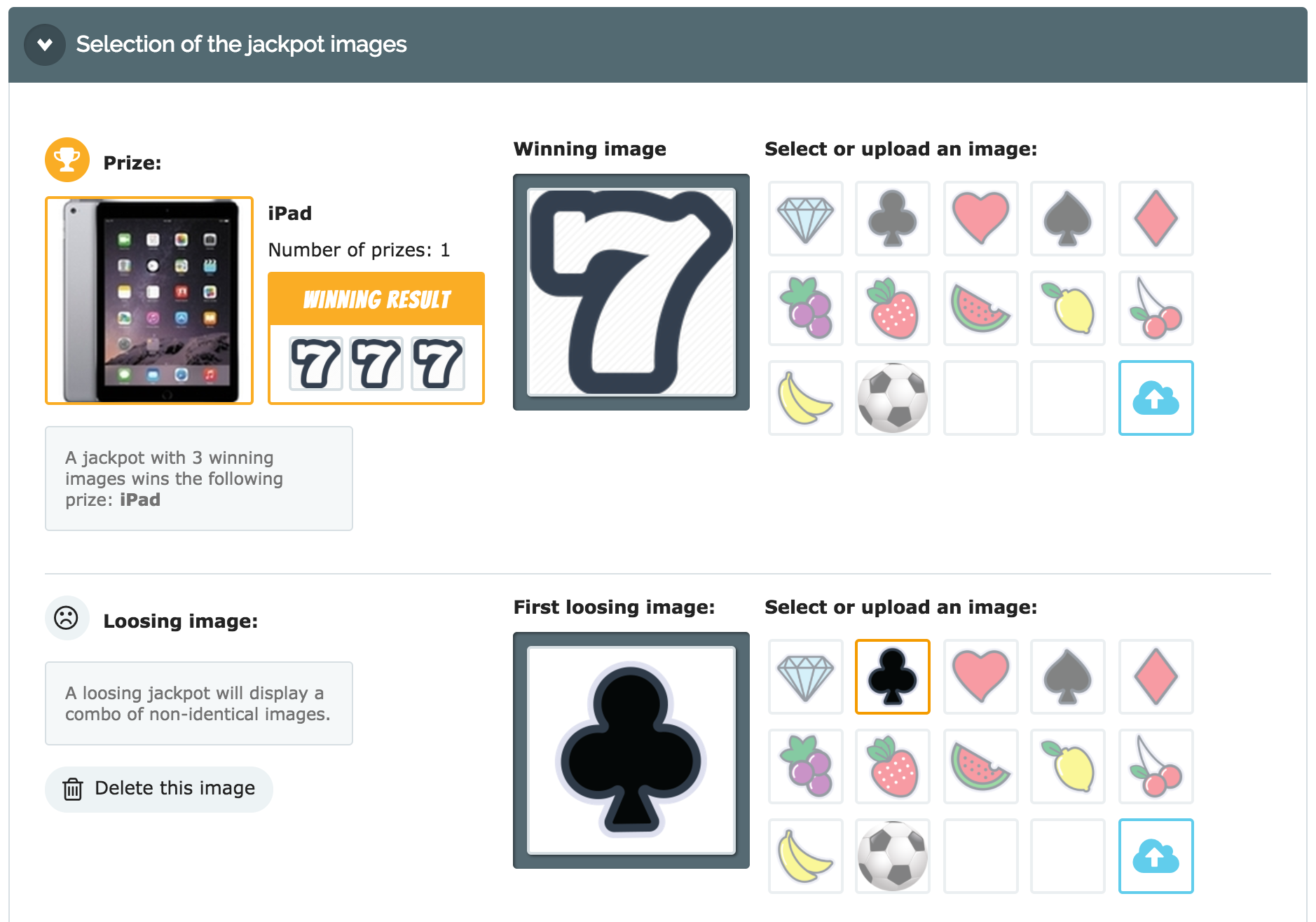 Here is an example with 2 loosing images: a clover and a diamond.
4. Look & feel of the jackpot
Customize the look of your jackpot thanks to a library of slot machines —or download our template ("slotmachine.zip" file at the bottom of this article), edit it and then upload your own slot machine!

Your jackpot is ready!