Please note that the Master form feature is only available to Admins.
Why master forms?
With master forms, you make sure your entire team is working towards a qualitative and consistent data strategy. How? This feature will avoid members of your team forgetting to select an SSO, a push or check a specific option (such as the position of the form), thus ensuring a better, more consistent data strategy.
Too many forms to choose from? Use Master Forms! Master Forms will always appear at the top of your dropdown list in the Form step of your campaigns: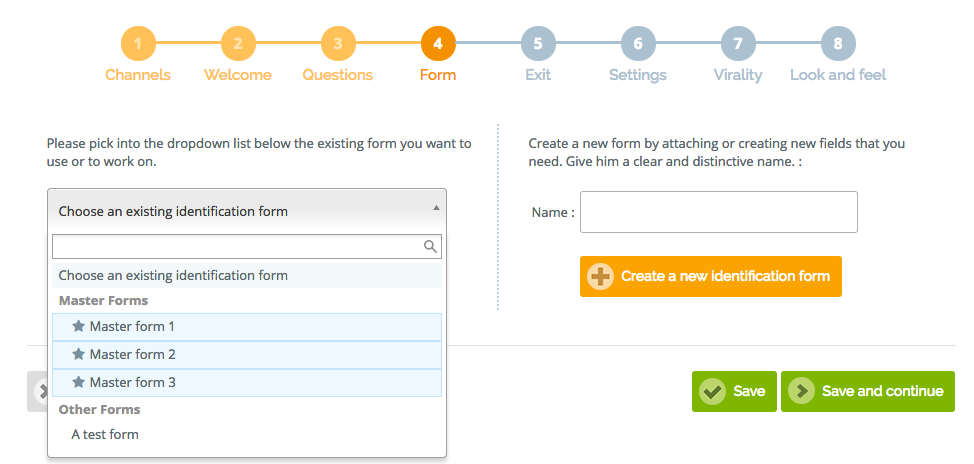 You can pin a form as "master" in Documents section > Identification forms:

Please note that master forms cannot be edited in a campaign. If you want to add or remove a field, you need to do it from the Documents section.
Lock form options such as SSO, push, the position of the form, etc.
It is possible to define some default options by editing the form directly in the Documents section (e.g. to prevent journalists/marketers in your account forgetting to select an SSO or to check an option). If you want to "force" a setting so that no one can change it, you can simply tick the box and "lock the option". (If you tick the box but don't lock the option, it will be checked by default, but other users in your account will still be able to uncheck it.)

*Postal code normalization allows to pre-fill a city based on postal code (e.g. if you enter 75000 as postal code and there's a "City" field in the form, it will automatically be filled with "Paris").
Read more:
If you want to edit your master form...
If you edit a master form that is already attached to one or several campaigns, changes will automatically apply to those campaign(s). No need to do anything else for the changes to be taken in to account!
Master Forms and opt-ins
The master form feature lets you have one or two generic form(s) and associate it/those with different opt-ins based on the website on which the campaign will be published. In order to do that, you need to create your opt-ins via the Opt-in Manager and select specific websites to which each opt-in will be available.
If you are not using the Opt-in Manager, contact your Qualifio expert!