You can customise the buttons, menu buttons as well as the colour of the checkboxes or radio buttons in your campaign.
Go to the 'Look & feel' step and click on 'Change Look and Feel'. This will open a workspace dedicated to the design of your campaign. Go to the 'Buttons' tab: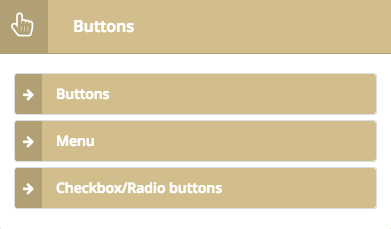 Use this section to set the style, format and colour of the buttons and the menu buttons (top right of the iframe), as well as assign some colours to the radio buttons and checkboxes.
You can also change the button labels using the 'Button text' and 'Menu text' sections located outside the campaign design workspace (still in the 'Look & Feel' step).