When do I have to create a Facebook App?
Are you using a custom domain that redirects to Qualifio? (For instance, if you have a dedicated website for your campaigns such as http://interactive.mywebsite.com)
In this case, it is necessary to create your own Facebook app if you want Facebook viral options to work correctly. Effectively an app is linked to a website which in the case we described previously is your website.

Which means you cannot use our generic app which is linked to our website.
As a consequence, you have to create your own Facebook app for your Qualifio campaigns on this website.

Follow the steps below to create your own app. You have to be an Admin of your Qualifio account and of your Facebook Page to process further.
How to register as a Facebook Developer:
1. Access the following URL: developers.facebook.com
2. Log in with your Facebook Account
3. Click on 'Create Developer Account'
You're all set to go!
How to create a Facebook application in less than 5min:
1. Access the following URL: developers.facebook.com
2. Log in with your Developer account
3. Click on 'My Apps' and then on 'Add New App'

4. Choose a name for your Facebook application (ie. MyCompany Quiz, MyCompany App, ...). It's not definitive, you'll be able to change it later. You can set helpdesk@qualifio.com as Contact Email if you don't have one.
Then validate by clicking on 'Create App ID'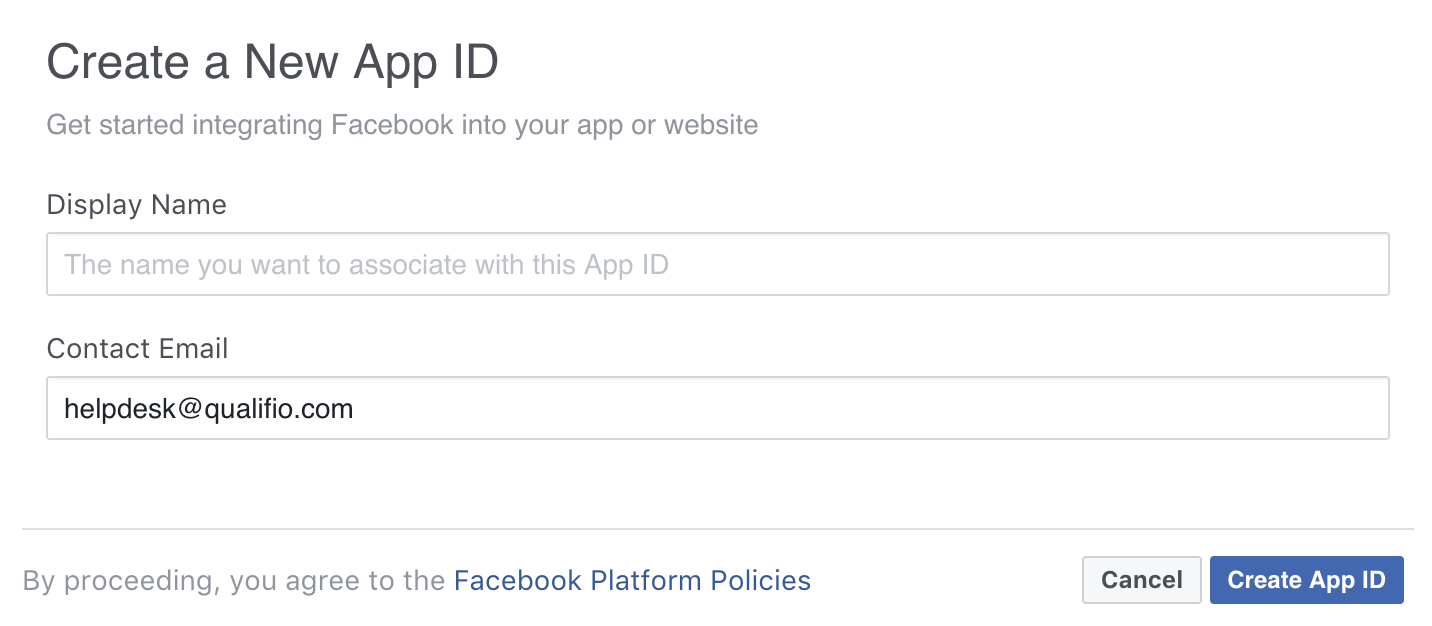 5. Go to Settings, Basic
6. Click on '+ Add Platform' and select Website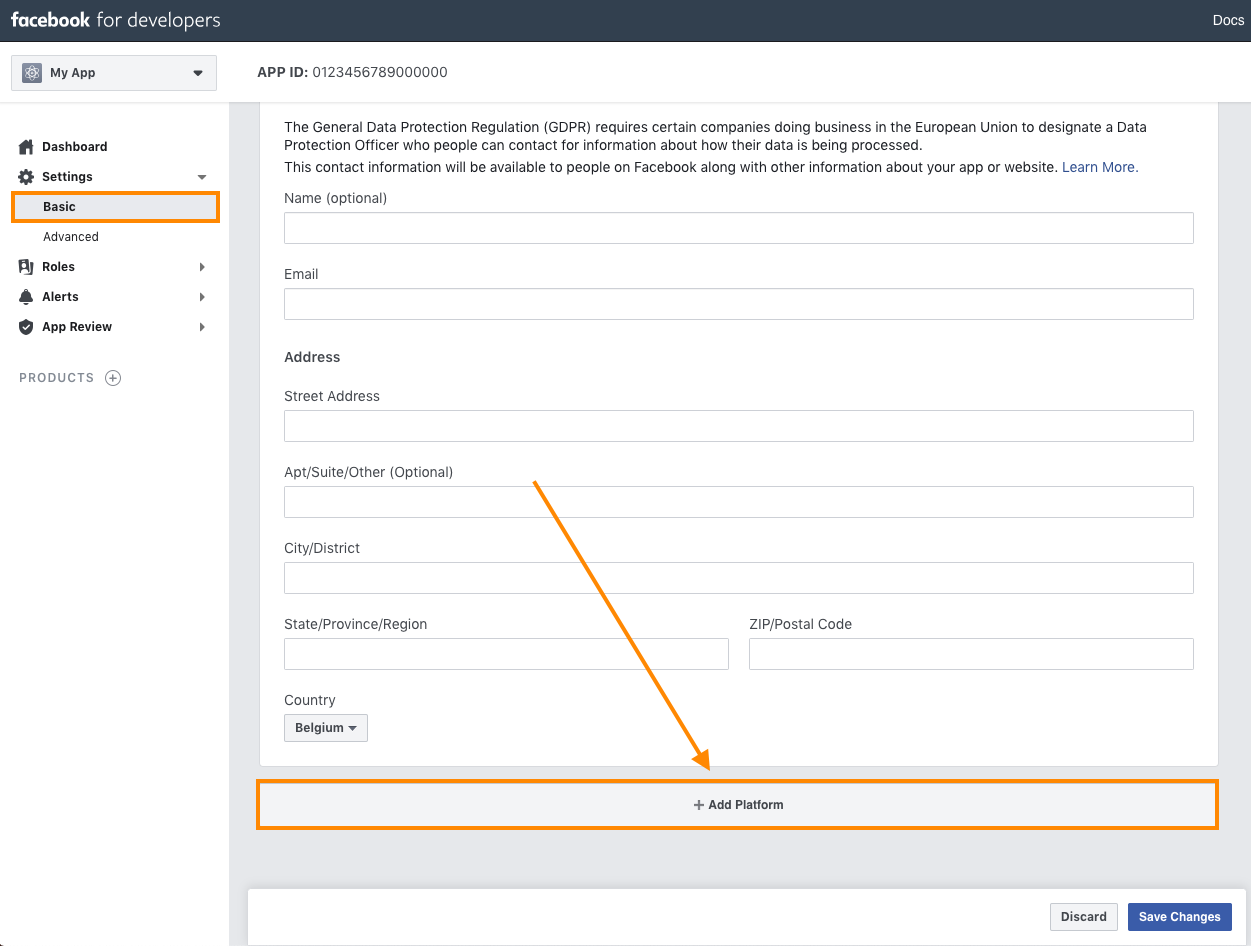 7. Type the domain of your app that is used for the Qualifio website (e.g. interact.qualifio.com)

8. Now, go back on top of the page and fill out the following info:
- Required: add your subdomain URL (subdomain.domain.xyz) in 'App Domains' field
- Required: add the URL where your privacy policy can be found in 'Privacy Policy URL' field. Note: if you do not have such an URL, you can use the URL of the contact page of your website.
- Required: add the URL where the terms of service can be found in 'Terms of Service URL' field. Note: if you do not have such an URL, you can use the URL of the contact page of your website.
- Required: Upload your logo in 1024x1024 in 'App Icon' or use our default logo
- Required: Choose a category: Business and Pages
- Required: Select a type of Business Use
8. Fill out the DPO Contact Information section.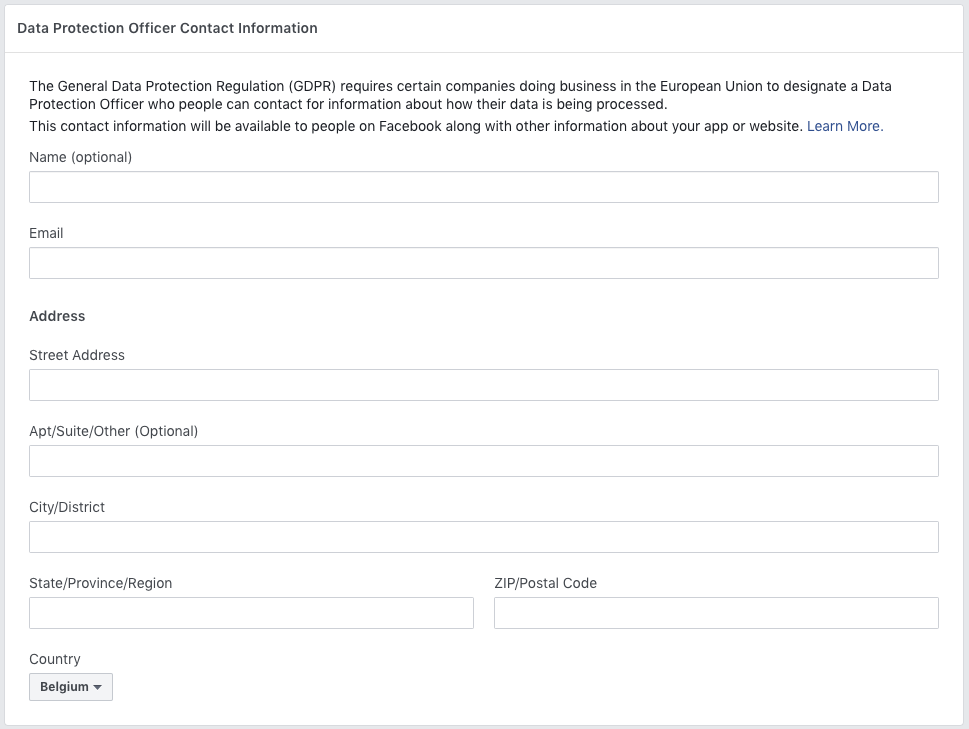 9. Click Save changes
10. Set your app to ON in the upper right corner of your screen to publish your freshly created app.

9. Do not close your Facebook Developer browser tab. It's time to create the app in the Qualifio Manager. Go in Settings -> Facebook Applications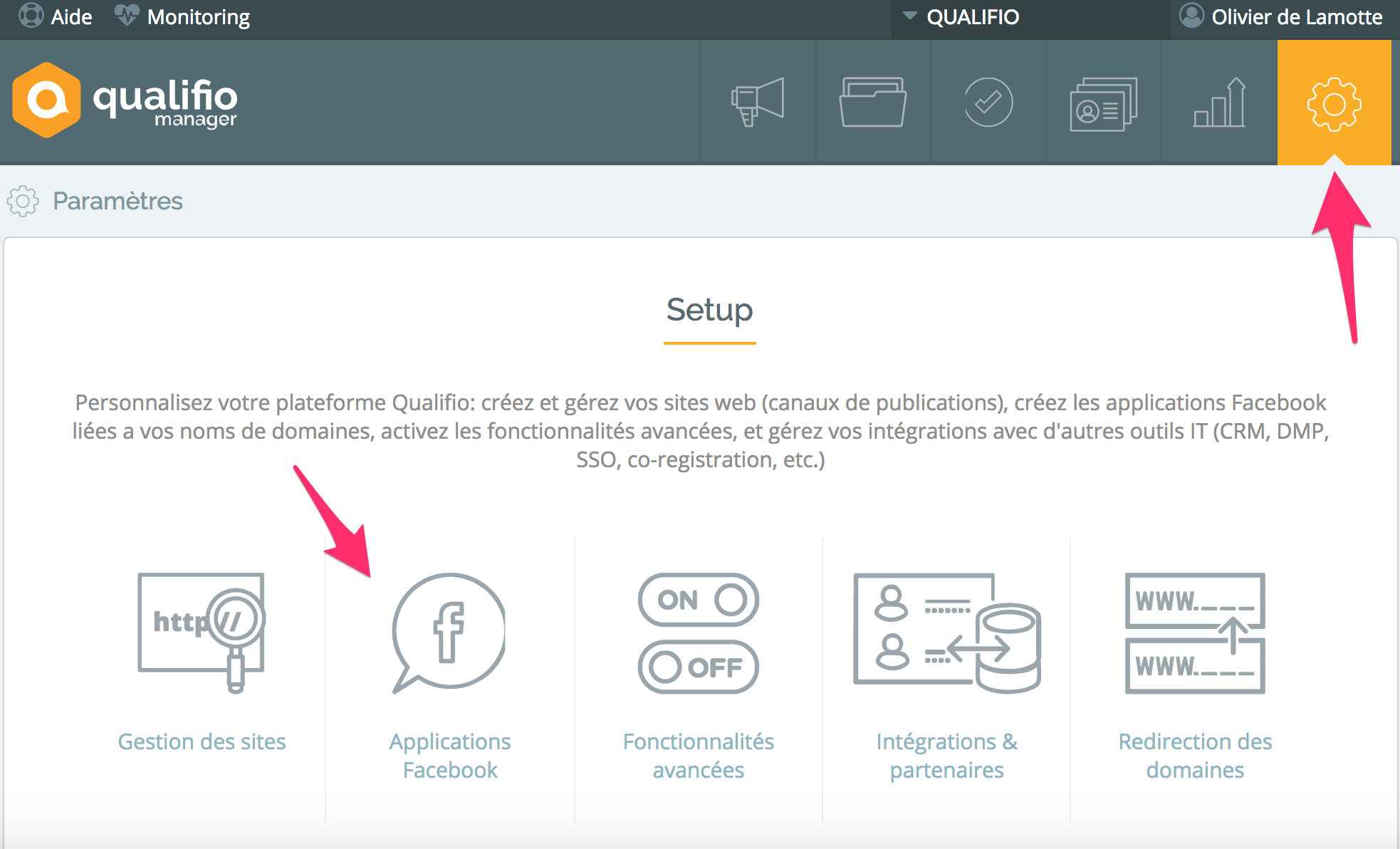 11. Configure your Facebook App in Qualifio
Give it a name (will not be shown to participants). It's only used to find/use/link your application in the Qualifio Manager. You can use the same name that you used in Facebook Developer Dashboard when you created the app.
Now, you'll need the 'App ID' and the 'App Secret Key'.
You will find both of them in the Facebook Developer Dashboard, in the first link of the menu: 'Dashboard'
Once you're done and that you've pasted both codes in the manager, validate by clicking on 'Add this application'
12. Final step: link your Facebook app to a website (that is using a redirection domain) in the Qualifio Manager. Go in Settings > Websites Management: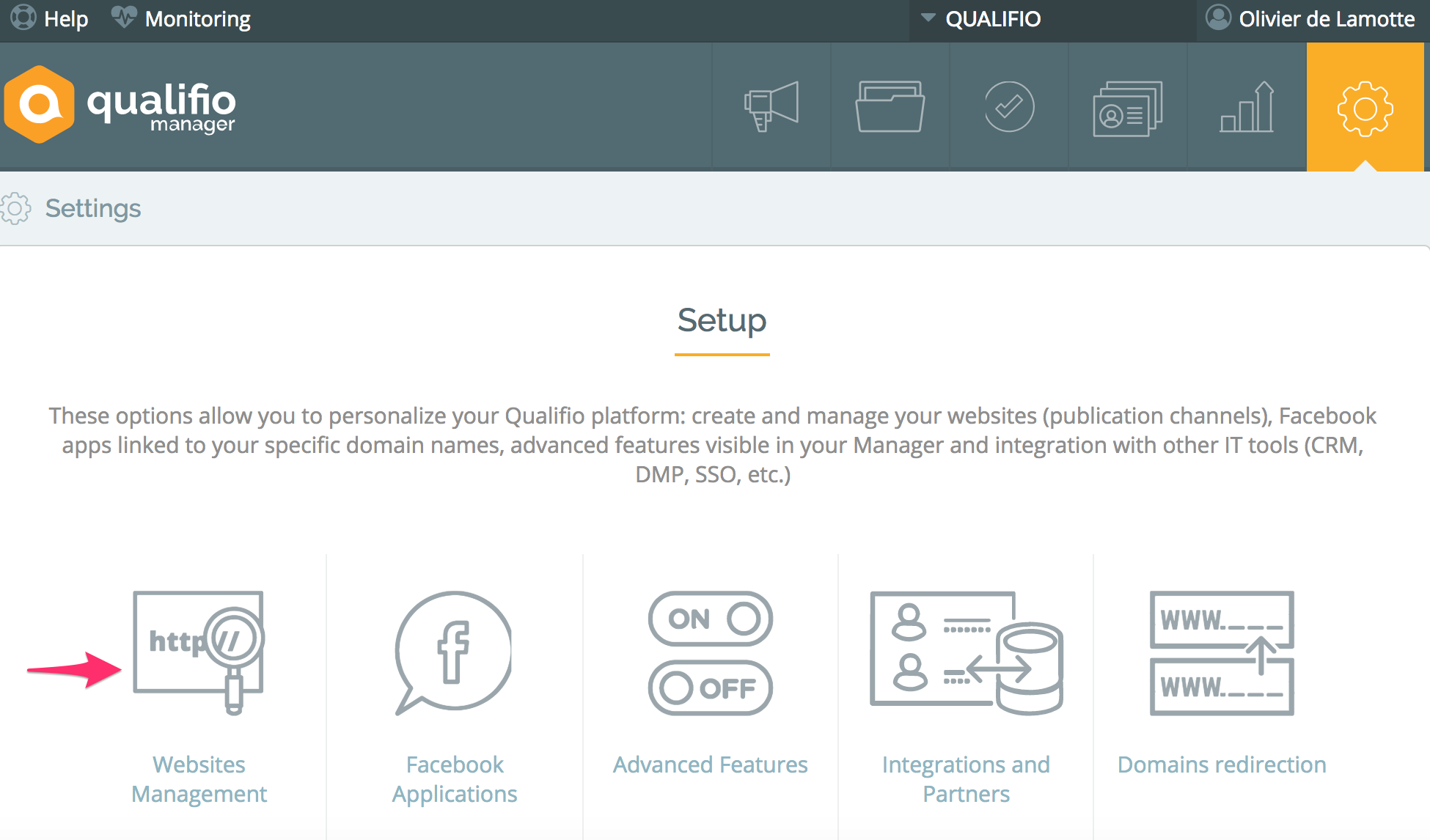 12. Find your website in the list and edit it (or create a whole new website if needed) via the first button with a 'world' pictogram.
Find the tab 'Facebook'. The dropdown is by default on 'Quiz Connector'. Click on it, select your Facebook App and save the website. You can also modify the SmartURL by your subdomain.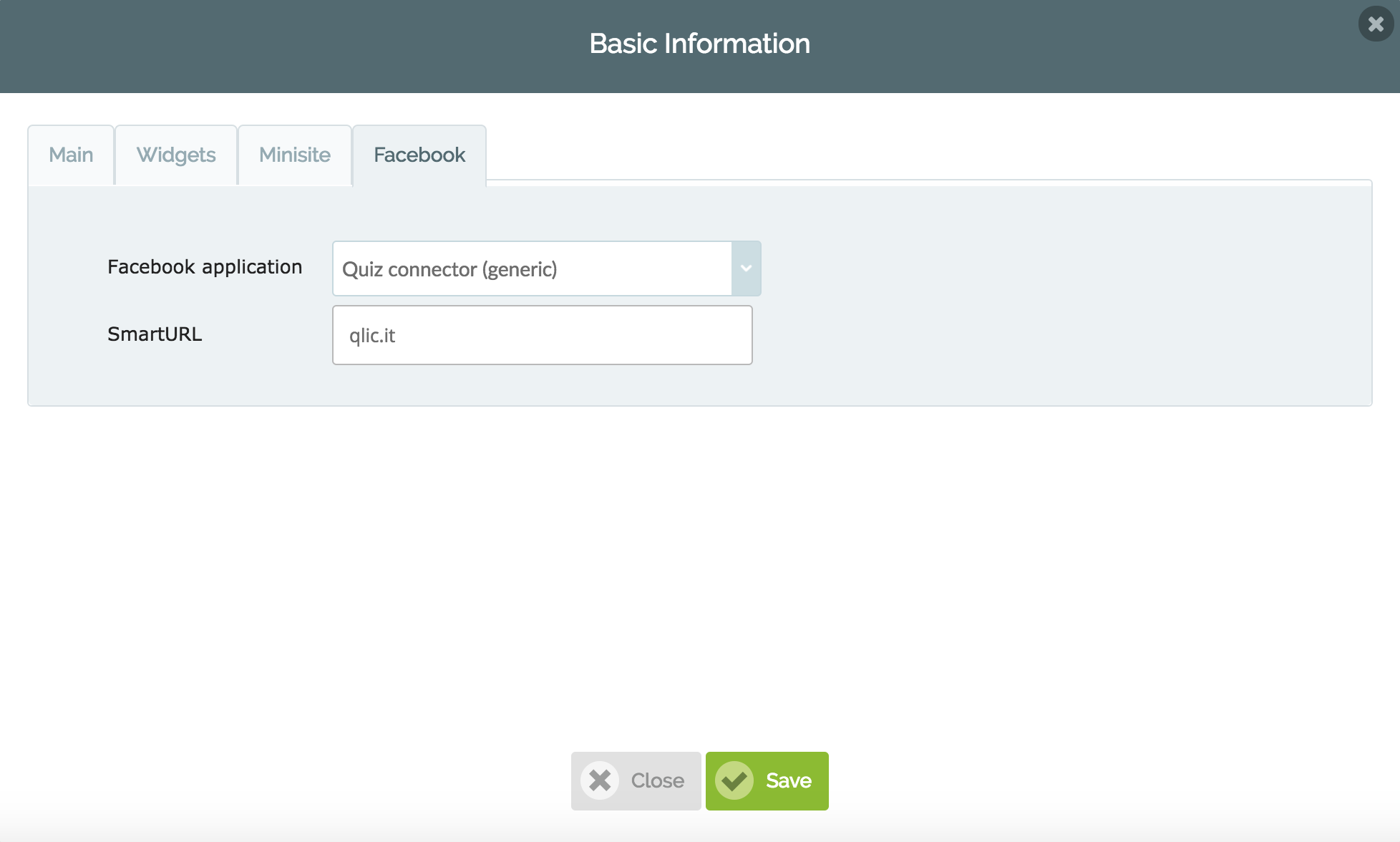 Read more: