It is possible to apply filters in your gallery by creating closed questions (check boxes or drop-down list) following the Upload zone in the creation of an Upload question.
Before anything else, check that this option is enabled in the advanced features.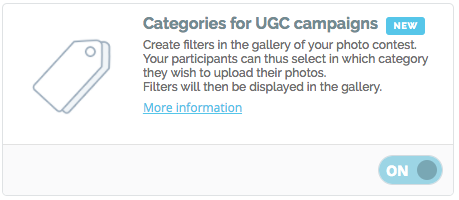 How to do that?
Filters are based on a "check box" or "drop-down list" question, following the Upload question. In the "Questions" step, you will thus need to create both these types of questions.
Beware the questions must follow the Upload zone to which it relates.


You must then activate those filters in the Upload campaign. In order to do that, you need to go to the "Settings" step. Closed questions following the Upload question should appear in the "Filters" option. Just check the filters you want to use in your gallery. This operation can be done in the course of the campaign (activation and deactivation).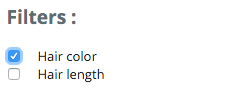 This option is also to be activated in your voting campaign, in the Votes step.
It is possible to activate filters in your voting campaign and not in your upload campaign.