One of the main things you should do when setting up an identified Qualifio campaign is to place opt-ins in the form to collect consent from participants and gain more email subscribers. Read this article to learn more about the features of opt-ins!
Table of contents
About opt-ins
An opt-in is a way that the participants agree to receive communications from you, e.g. through email. After someone is opted-in they become a subscriber to your email list. This means you can send them news updates, promotional messages and more!
⚖️ Note regarding data privacy laws: With laws concerning data collection and use of personal data continually changing, opt-ins form the basis for operating legally compliant email marketing campaigns, as recipients are required to give a sender explicit permission to send them marketing emails.
Note:
If you have a mailing integration, someone fills out your form and ticks the opt-in and they're added to your email list right away. You can find an example of this in our article about
the integration with Mailchimp
.
Setting up opt-ins
Let's go over the way to set up opt-ins in Qualifio.
Setting up and managing your opt-ins is anything but complicated. We've created a custom panel in Qualifio for easy and intuitive access to your opt-ins and opt-in statistics.
The Opt-ins section can be found on the main menu.

In this section, you can define one or more opt-ins that are active in one or more campaigns. This enables you to differentiate opt-ins between different forms.
You can find an example configuration of an opt-in below: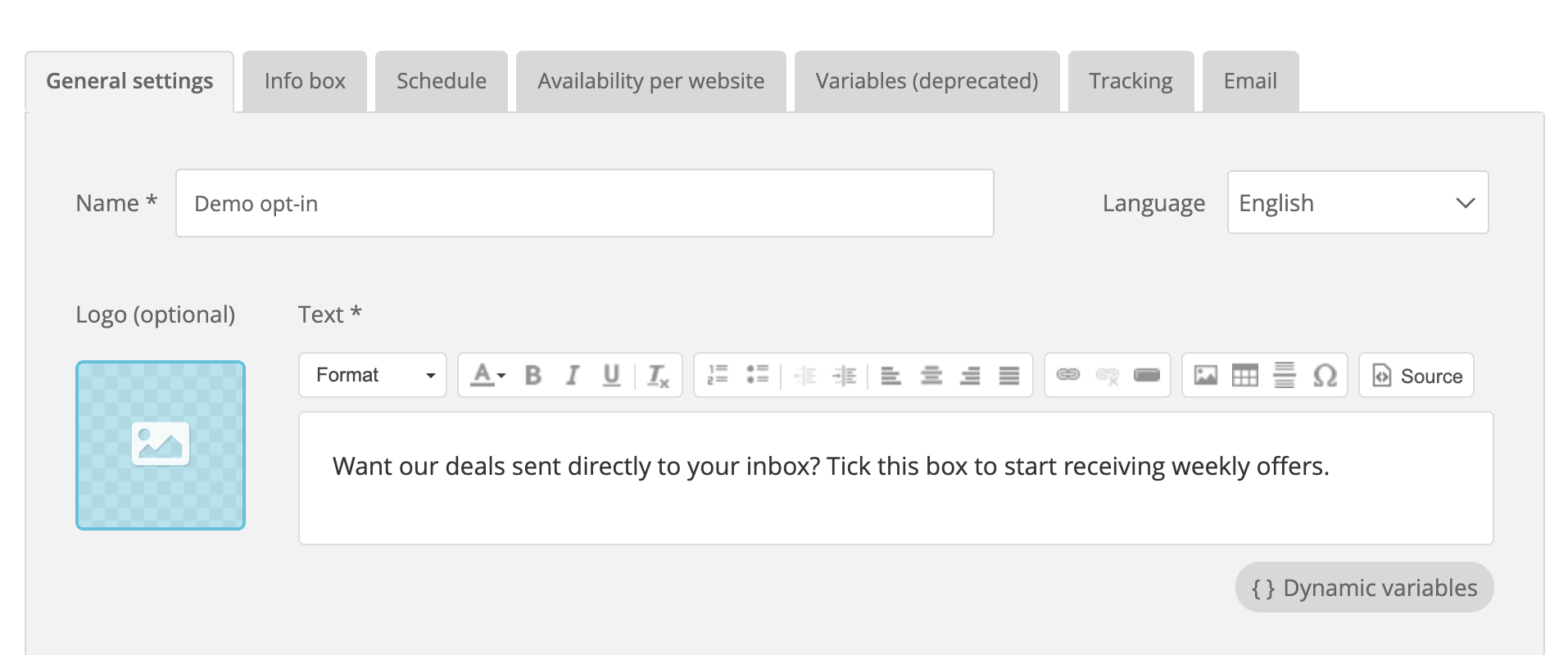 Using this configuration the opt-in will be presented to the participant in the campaign in the following way: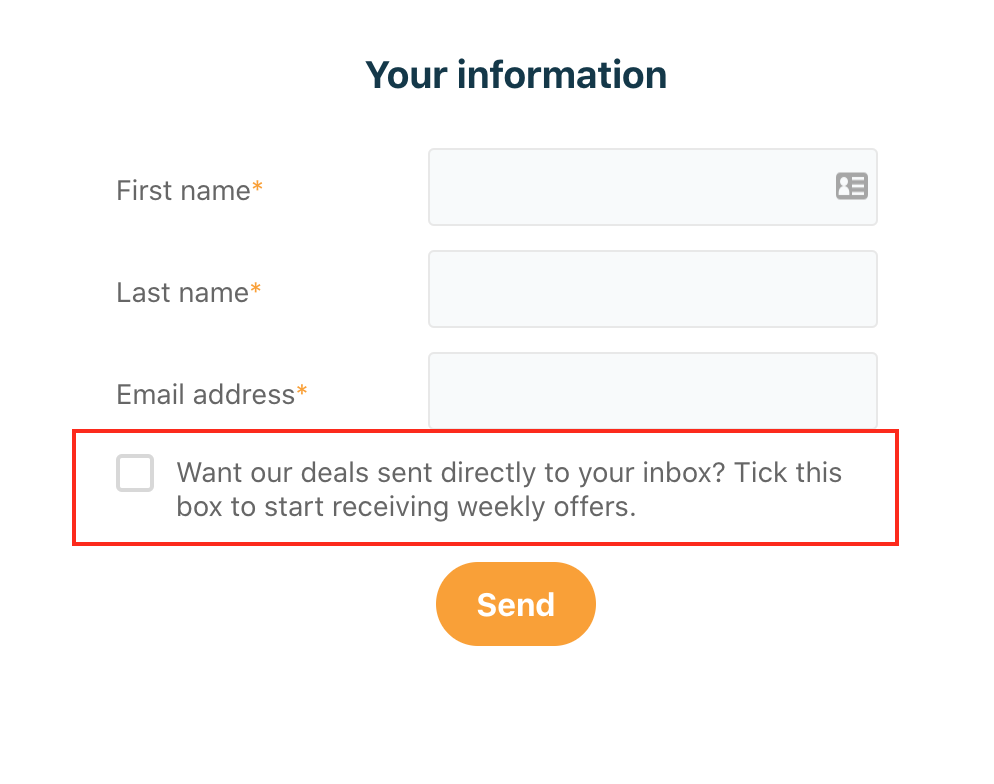 NOTE: You can create an unlimited number of opt-ins.
Choosing opt-in settings
When you create a new opt-in in Qualifio, you'll need to choose the opt-in settings you want to use. In this section, we will take a look at each opt-in setting so you can learn how to choose wisely.
To choose your opt-in settings, follow these steps:
Go to Opt-ins.
Then click on the Create an opt-in button.

Click the Language drop-down and select a language. The opt-in will only be available in campaigns with the same language.
Your opt-in can feature your logo (or that of your sponsor, partner or advertiser).
Now we come to the content. Choose the name of this opt-in and add an explicit opt-in text so that participants know upfront what they are agreeing to.
Opt-in types
Qualifio supports two types of opt-in display: checkboxes and radio buttons.
With checkbox opt-ins, the participant has the ability to opt in by ticking a checkbox.
With radio button opt-ins, a choice is presented to the participant and the participant is required to select one of the two options (yes or no) to continue with the campaign – unless the opt-in is optional.
Finally, you must choose your opt-in categories, which will reflect in your statistics. For more information on opt-in categories, take a look at our comprehensive guide.
Opt-in settings
Qualifio's opt-ins have the checkbox de-selected by default, to meet the consent requirements of the GDPR which require receiving affirmative consent from your subscribers. By using pre-checked opt-ins, the default action is that the participant is opted in.
With a required opt-in, you require the participant to opt-in by checking the box. If the participant does not ticket the checkbox, they won't be able to continue.
To be GDPR-friendly, we do not recommend enabling these options for mailing.
Double opt-in is a system for adding new contacts to your email list. It involves collecting an email address through a form and sending a confirmation email to that address in order to validate the contact information before adding it to the list.
🚧 A prerequisite for using the double opt-in is to have an
asynchronous data push integration
, such as a
webhook 2.0
. Contact us for more information.
If you intend to use this opt-in with single sign-on (SSO), you can prefill data at sign in. In this case, select the If prefilled menu to define how the opt-in will behave if it gets prefilled.
If you want to store the information and pass it to your vendor, click the Mapping variable drop-down and select a variable. If your company uses SSO variables, refer to our "Using SSO variables with the Opt-in Manager" article here.
Click Save. This should take you to the list of opt-ins again, only this time your new opt-in should be there!
You can change the opt-in settings for an existing opt-in at any time. Just visit the opt-in's settings.
Info boxes
The "info box" works as a pop-up that is triggered by clicking on the interrogation mark and that can contain descriptions or instructions related to your opt-in.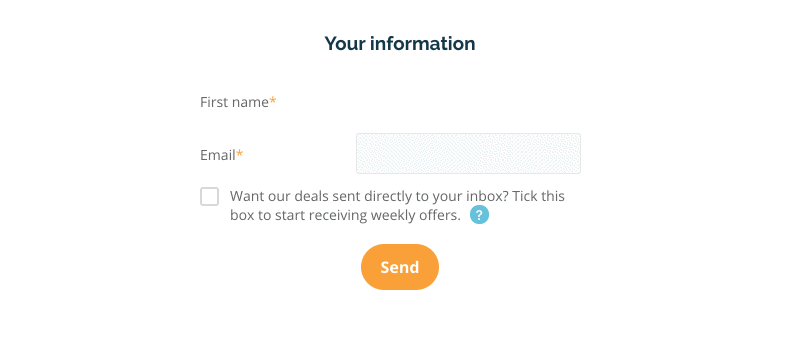 Schedule settings
In this area, you can schedule an opt-in campaign based on a date and time, limit the number of opt-ins to be collected but also decide their respective order.
Normally Qualifio will allow an opt-in to be checked an unlimited number of times, but in certain cases, you might want to limit this number and set a maximum. To do so, you'll need to disable the "An unlimited number of opt-ins can be collected" option in the Schedule tab and tell us the maximum number of opt-ins you want to collect. Once that limit is reached, the opt-in won't display in campaigns anymore.
Tips: This restriction applies retroactively and across campaigns (it is the total number of opt-ins that is taken into account). Also, each unique subscriber or lead is counted only once no matter how many times they participate in the campaign or check the opt-in (determined by the count of unique combinations of first name, last name and email address).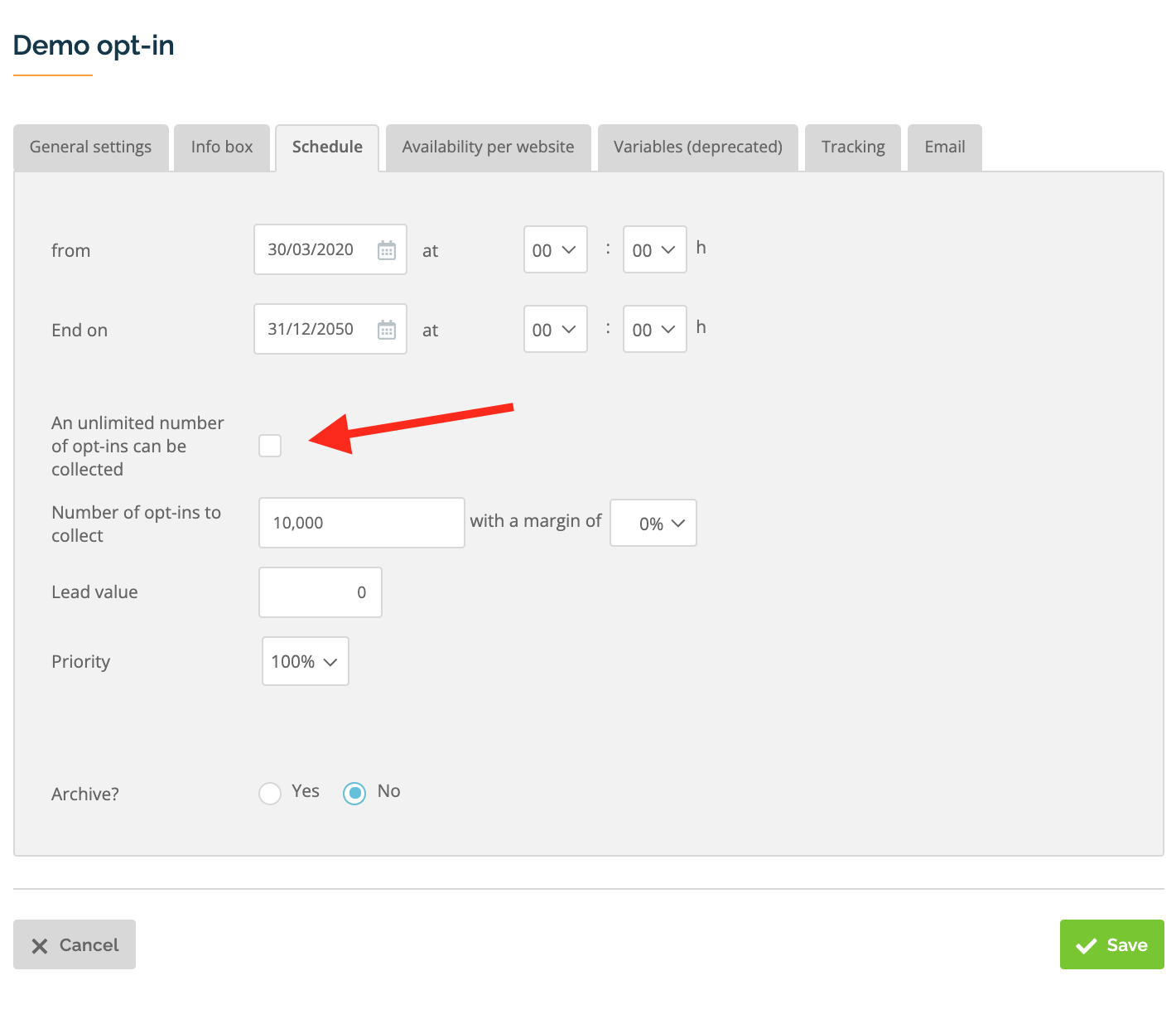 Using the Priority attribute in the Schedule tab, you can organise/order opt-ins based on which ones you would like to see first in your campaigns. For instance, the opt-in with a priority of 100% will always be shown first in the list, while the one with a 0% priority will always be shown at the end of the list.

Using the Availability per website
Next, you'll see the Availability per website area.
Opt-ins need to be linked to the websites for which they need to be available. This can be configured by going to the settings of an opt-in and editing the opt-in availability in the dedicated tab: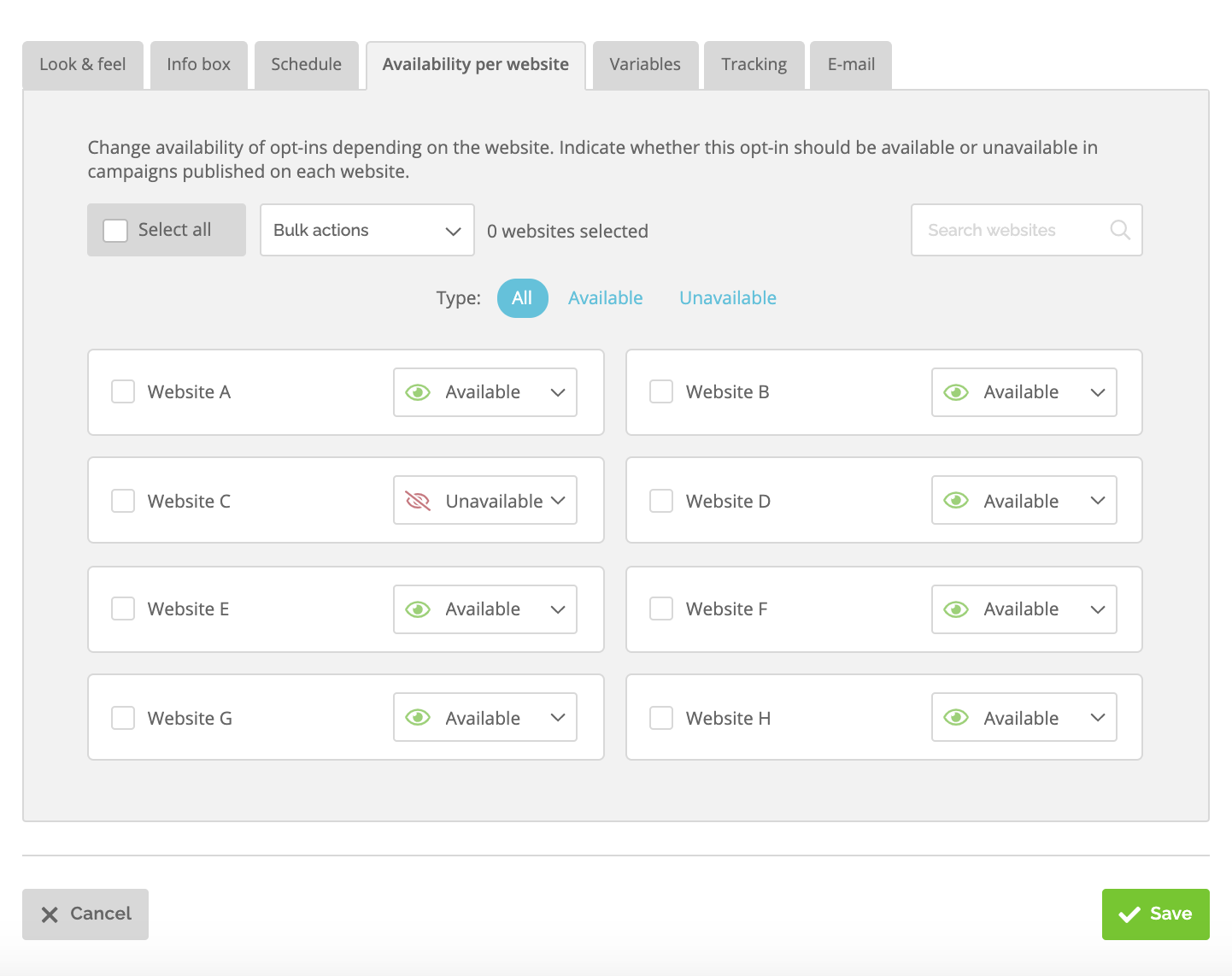 For help on how to do this, see here.
Bonus extra — tracking tags
📌 Important: You don't need to use this if you are using the Qualifio Tracking Framework.
You may want to structure your tracking so that if participants do not check the opt-in, then they are opted out of a specific tracking tag. This way, you'd only track people who have given you permission to do so.
Navigate to Opt-ins.
Click to edit your opt-in.
Enter your tracking tags in the Tracking area.
Save your changes.
(Optional) How do I send a welcome email with Qualifio?
Now, let's set up your welcome (or confirmation) email.
You can easily edit your welcome e-mail via the Email tab.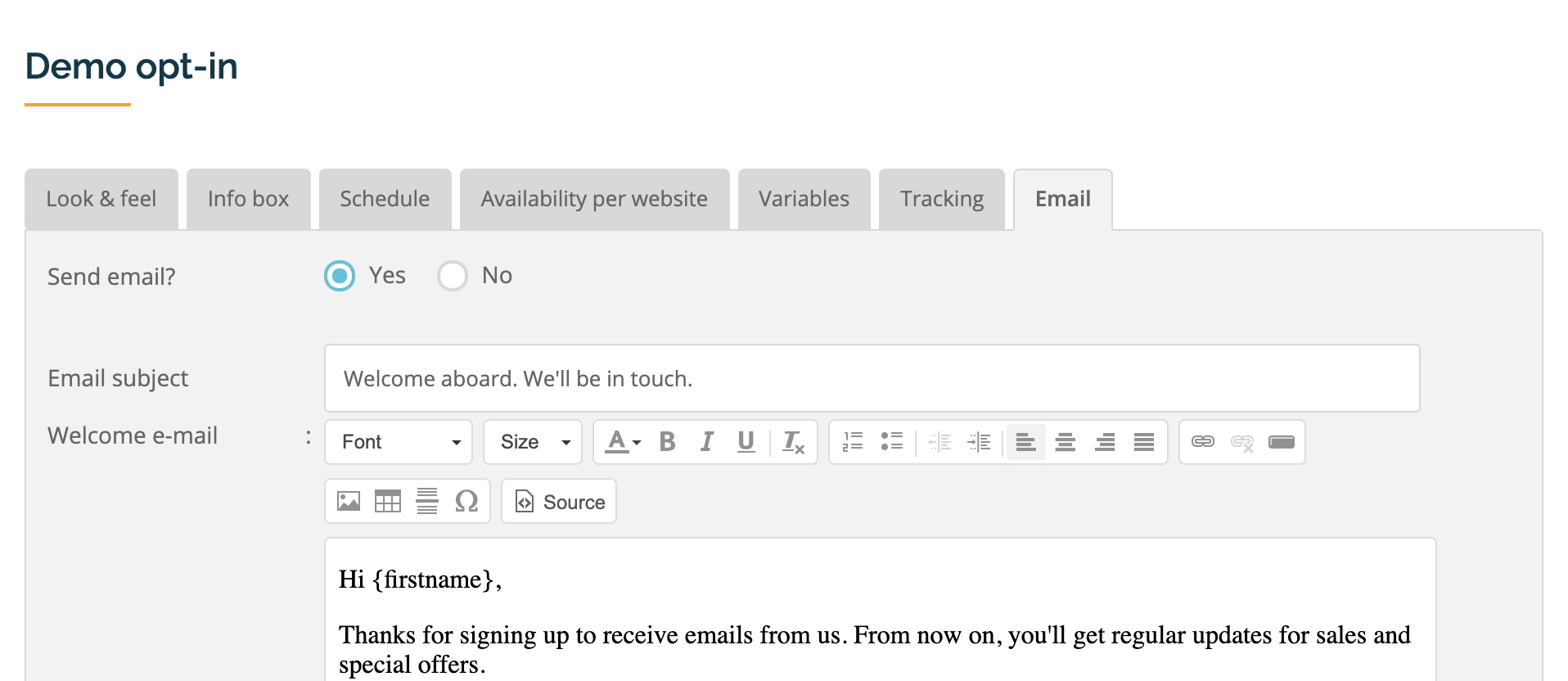 Opted-in participants will receive your welcome email. You can keep it simple or flourish your message with links and images.
Placing opt-ins on your form
Time to head over into the campaign in which you want participants to opt in.
Enabling an opt-in in a campaign is super easy. Once an opt-in has been set up, you'll have quick access to it through any of your identified campaigns.
To ensure that an opt-in is requested during the campaign flow, it needs to be selected at campaign level in the Form step, as shown below: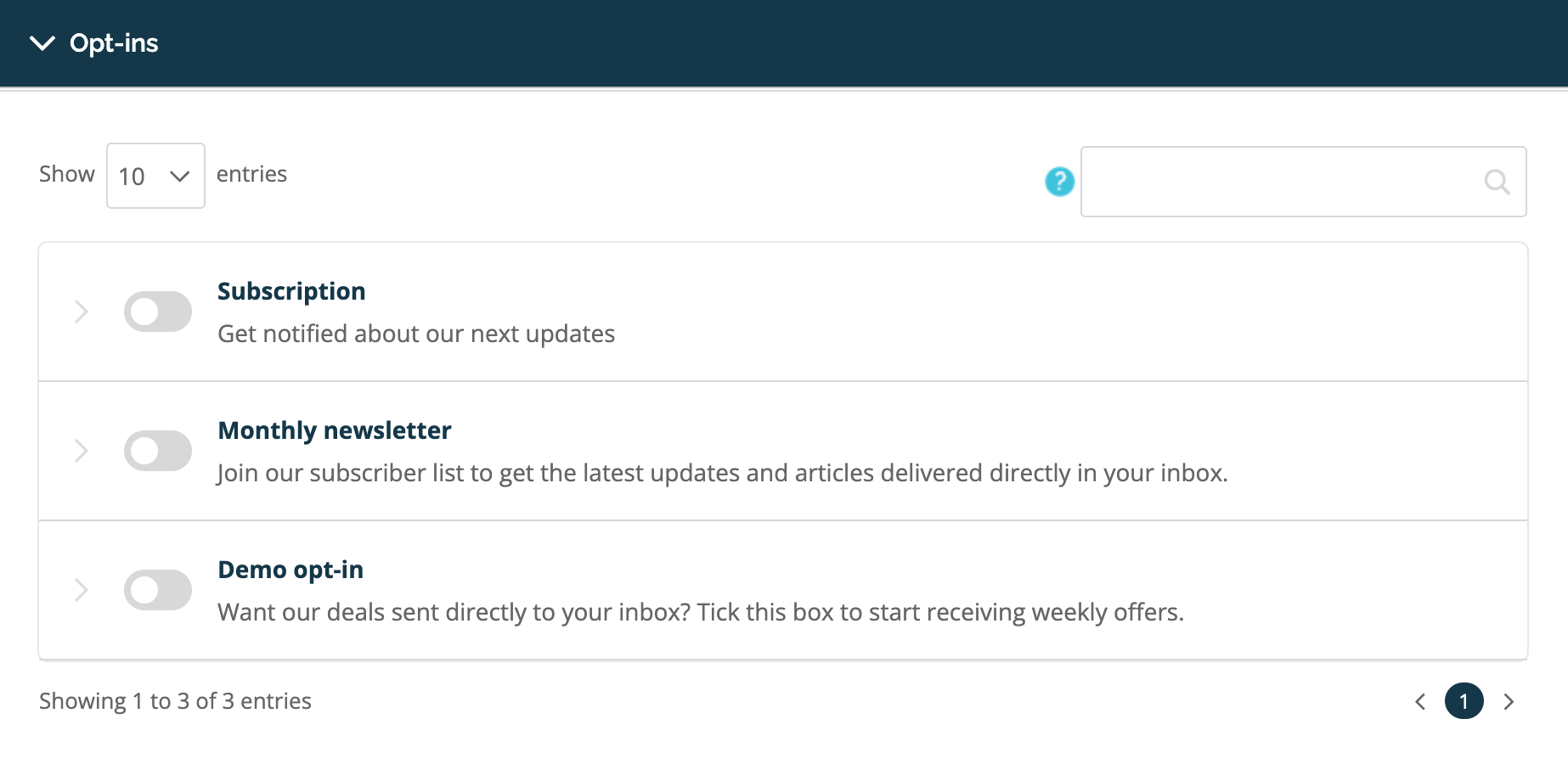 If one or more opt-ins are enabled, Qualifio will present the opt-in(s) during the campaign flow for the selected publication channels by adding the opt-in checkbox at the end of the form. Remember that you can order your opt-ins if you select multiple ones by changing the priority attribute in the Schedule tab.
Remark: If you don't see the desired opt-in in the list, please first double check its language and availability per website. Want to know a little more? How to fix opt-in or form not showing on your list →
You can easily remove an opt-in from your campaigns at any time.
And you're all good to go!
Tracking opt-in conversions
Once your campaign is up and running and generating participations, you can also view and export opted-in participants via the Qualifio campaign statistics.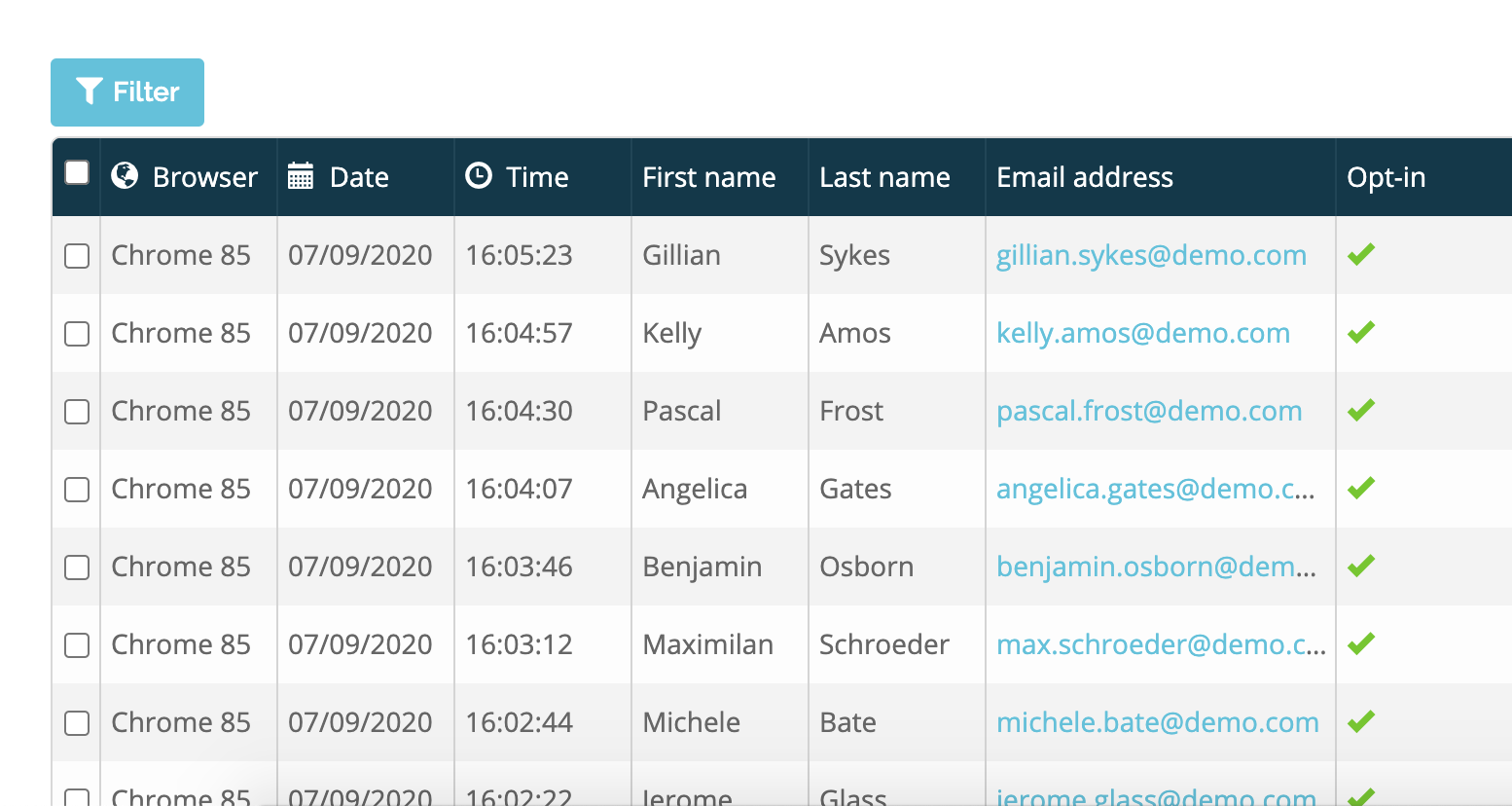 Opt-ins in Qualifio enable your email marketing to be operated in a legal manner by presenting participants with a clear choice during campaigns.
The result of this choice (opted in or not) is stored for each of your participants in your campaign statistics, along with detailed information about the time when the opt-in was provided.
Together with the versioning feature, those statistics allow you to gather some information on which participants gave their consent and what they gave consent for.
Tip: In 2018, Qualifio decided to enable opt-in text versioning. You can view previous versions from the Versions screen. Saved changes in opt-in texts are added to the opt-in's history. This feature is important for being able to demonstrate consent, as described in Article 7(1) of the GDPR.
Note:
Forms use a single opt-in setting. Qualifio doesn't have built-in support for double opt-ins. If you have a custom real-time push integration with us and would prefer to
use double opt-in
, you can request that change by contacting us.
Custom integrations are only available for Gold and Platinum users.
Questions? 👋🏼
We're always happy to help! Send us an email and be sure to share your campaign's title or ID so we can better assist you.
Related articles