Blocking (or "blacklisting") IP addresses is one of the most effective ways to strengthen your campaign security. If you discover an IP address that is causing trouble to one of your Qualifio campaigns, you can block the address right away. Take a look at this article to find out more.
Why block an IP address?
There are several reasons why you would want to block an IP address. In general, the most common reasons are:
Blocking spammers, bots, hackers and other malicious users who attempt to participate in your campaign. If you look at the top 10 in your campaign statistics Dashboard and notice a rise in participations from one or two IPs, and if this seems a little suspicious to you, you can block the illegitimate IP addresses.


⚠️ To protect participant privacy, Qualifio only displays hashed IP addresses. We're fully committed to compliance with the GDPR.

Preventing fraud: Block the IP addresses of users who engaged in fraudulent behaviour or suspicious activities (fake participations and similar types of abuse).
Ultimately, blocking an IP address allows you to have more control over your campaign reporting.
What about dynamic IP addresses?
Bear in mind that Qualifio currently cannot block dynamic IP addresses.
How to block an IP address
To block an IP address from a specific campaign, you're going to need access to the campaign statistics. External users don't have this permission.
To exclude IP addresses at a Campaign level, follow the steps below:
Find the campaign.
Open the Detailed report and select "Spam management". You can see a current list of IPs that have already been blocked (if any).

Next, you're going to have to add IP addresses that you want to block.

Click on "Add".
You've successfully added the IP address(es) to block. These IP addresses are instantly "blocked". Important: blocking IP addresses won't prevent those from accessing or participating in your campaign. It will only exclude them from your reporting (Dashboard, Detailed report and Global Stats) – including if they participated before you blocked them. In the same way, they won't be able to win a prize in the campaign their IP was banned from.
How to remove an IP address from the block list
You can choose to remove an IP address from the IP block list at any time by simply clicking on the "Delete" icon next to it.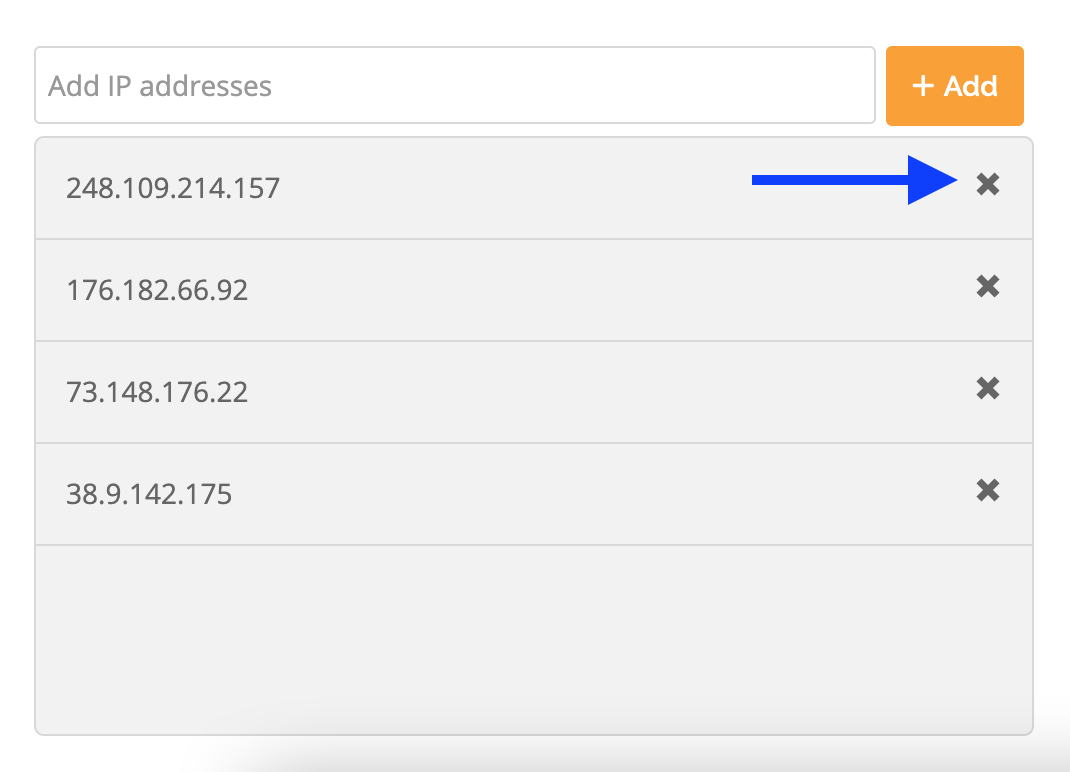 Scenario 1: The participations from this IP were recorded in the statistics, then the IP was blacklisted. Data about these participations should be restored to the statistics within a few minutes after removing the IP address from the IP block list.
Scenario 2: The IP was blacklisted before participations happened from this IP. In this case, these participations are not recorded, and we will thus not be able to retrieve the data should you choose to remove the IP address from IP the block list.
When IP blocking isn't what you're looking for
Excluding internal traffic
Clean data is better data, and better data leads to better decisions. Bear in mind that, if you're just looking to delete a couple of participations from people on your staff, you can also use the purge option or, if the campaign has already started, you can manually delete participations from the statistics.
Blocking participants from an email domain
Qualifio does support email block in which you can block traffic from an entire domain. Once blocked, any participations attempted on Qualifio forms using this email domain will be rejected (i.e. prevented from submitting the form). You will need to contact our support for this. This is because the email block applies to all of our customers at once, so we need to make sure the domain you request to blacklist is junk. Read our help centre article What are the blocked domains?
Note: Qualifio doesn't support geo-blocking, in which you can block traffic by country.