In this article, we share a solution to fix the Facebook error "Can't load URL: The domain of this URL isn't included in the app's domains."
The instructions in this document will only apply to Qualifio customers who use their own domain name. If you don't have a custom domain (i.e. if you publish campaigns on a subdomain or website such as yourbrand.qualifioapp.com), these instructions won't apply.
What is causing the error?
The error message displays because a field in the Facebook App settings has invalid information.
If you try to sign in with Facebook Login or to share the campaign on the social network, this exact error message appears as a pop-up: "Can't load URL: The domain of this URL isn't included in the app's domains. To be able to load this URL, add all domains and subdomains of your app to the App Domains field in your app settings."
It looks like this:
Luckily, the root cause of the problem is easily fixed. Follow the steps below.
How to fix it
To solve this Facebook error, go to Facebook's developers' page and log in.
Tip: If you have not set up the Facebook App yourself, you may want to get in touch with the makers of the app you're using.
Click My Apps at the upper-right corner of the page.
Select the app you wish to fix.
In the left-hand menu, click on Basic, which you'll find under Settings.
The field you need to edit is App Domains, as shown below: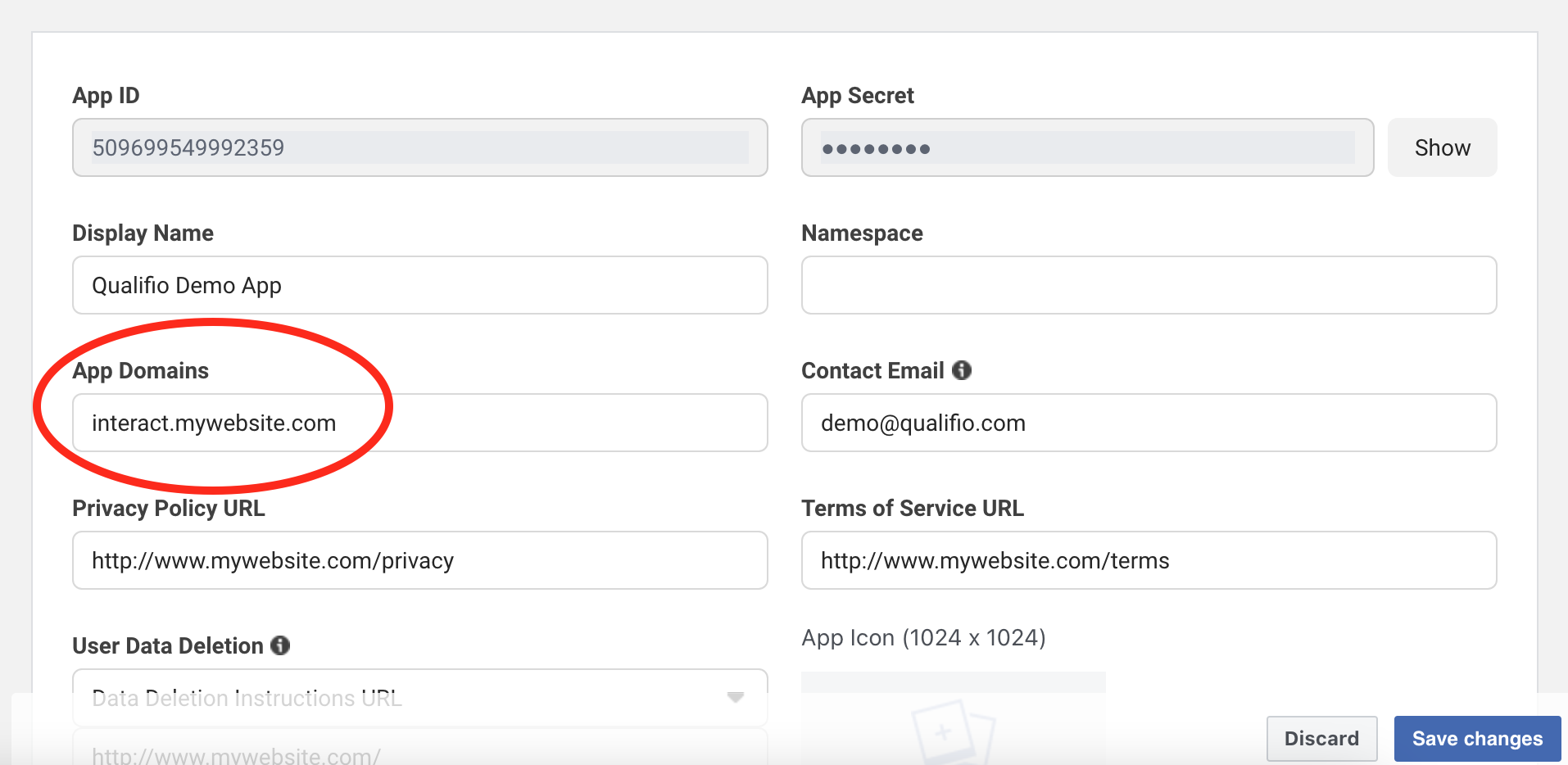 There is a mistake somewhere in the domain in this field. The reasons could be
it is the wrong domain: make sure you have entered your exact domain or subdomain used in Qualifio (spelled correctly);
it is in the wrong format: the domain should be without "https" or "www".
After you have done the changes, click Save changes at the bottom.
Go to your campaign and check the Facebook Login or Facebook virality options that previously triggered the error.
It should be working now. Enjoy!
If it does not work, please contact our customer support. When you do, we would appreciate that you:
take a screenshot of the error message
check internally who's the Administrator of your Facebook App so we can potentially get the access rights.
Related article
We provide the instructions for how to set up a Facebook App in a separate article.