You can manage and view the details of program members, the currencies they hold, etc. You can also perform manual actions such as adjusting points.
This chapter contains the following:
Enrol members in a loyalty program
Members connect to your loyalty program through single sign-on (SSO), which simplifies their experience. They use their membership account so that there's no need to create a new login/password. Once a member is logged into your site, they can visit your portal without logging into their account or re-entering their information again.
Note
A user is enrolled in a loyalty program as soon as they log in to your portal for the first time. From there, they are considered a member and can start earning points.
View information about members
To view program members:
Open the Loyalty CRM (Member profiles).

A list of members appears. Here you can search for a member by name or email.
Click the name of the member. When you do, you can view the following information:

Contact information: The member's name and other details.
Balance: Details about the point balances.
Level: The current level of the member.
Rewards: All the promo codes the member has received.
View members' point balances
To check how many points a member currently has:
Open the Loyalty CRM (Member profiles).
Click the member's name.
Under Balance, you can view the member's available points for each currency.
For more information about currencies, see Loyalty currencies.
Adjust members' points balances
Open the Loyalty CRM (Member profiles).
Select a loyalty program member, and then click Adjust points next to the right currency.

To add points, select +.
To remove points, select -.
To adjust the points, enter a value.
Enter a comment for the adjustment. The member will see why you've manually adjusted the points balance in their "transaction history".
Click Apply.
Note
When you adjust points from a member, the member's points balance is updated in real time.
Give rewards to members manually
To give a reward to a member manually:
Open the Loyalty CRM (Member profiles).
Click the member's name.
Click the Offer a reward button, and complete the necessary fields.
Block members from a loyalty program
Blocking a member prohibits them from seeing the loyalty program and removes their ability to earn points and use them to get rewards. It doesn't remove them from the list of program members.
Follow the steps given below to block a member from the loyalty program:
Go to the Loyalty CRM (Member profiles).
Go to the member detail page by clicking on their name.
Click on the Block member button at the top right corner of the screen.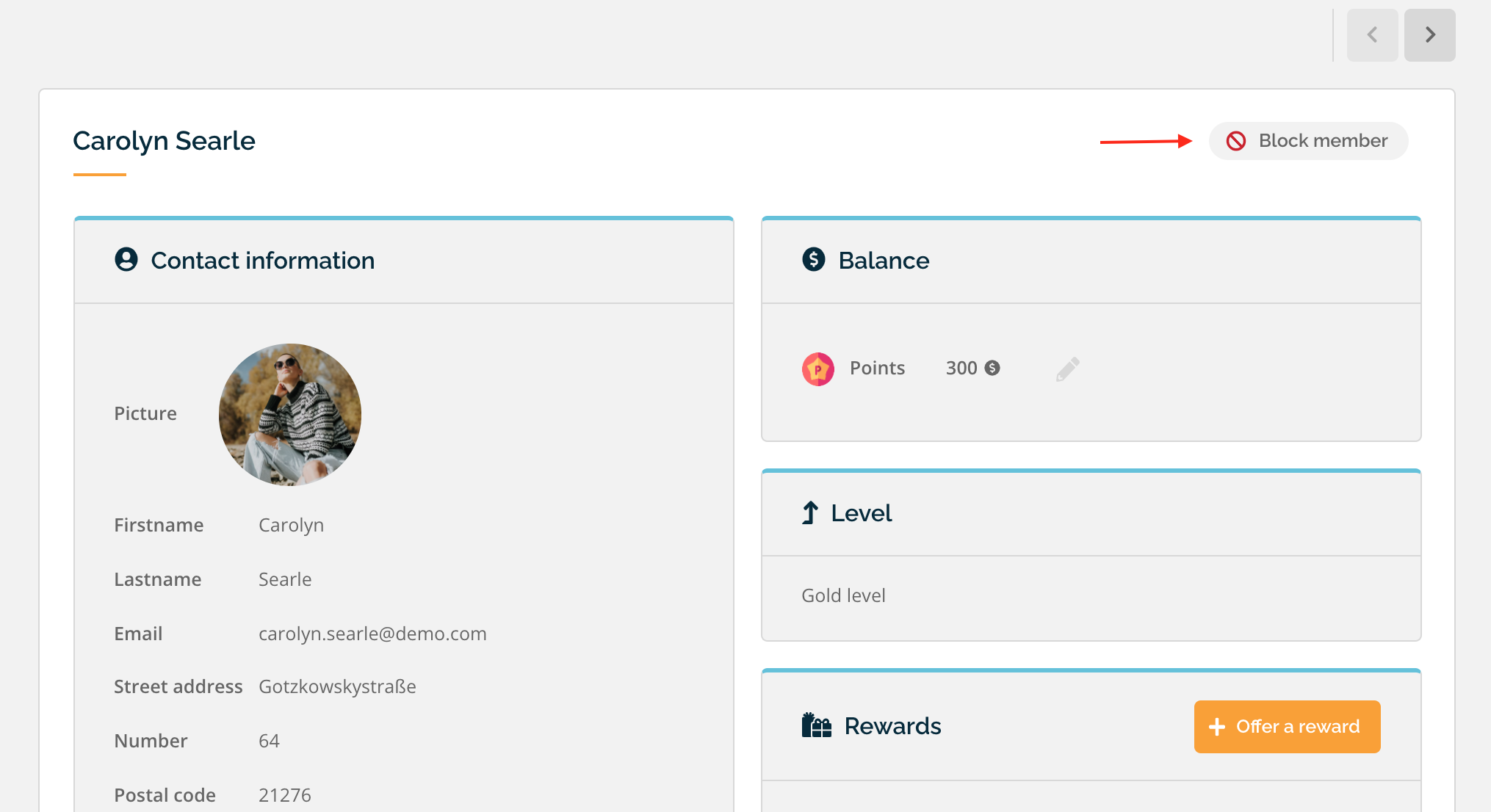 When a member is blocked…
They will no longer be able to earn points for interacting with you.
They will not be able to see the member portal on your site after logging into their account.
Note: You can unblock the member anytime from the member detail page.