Let your members redeem the points they've earned for rewards by adding custom burning rules that suit your loyalty strategy. Combine these rules with criteria such as birth date, location, and more.
Burning rules allow to burn – or spend – points by exchanging them for rewards.
Once your earning rules and rewards have been configured, members earn points for each interaction and are incentivised to keep interacting to unlock new rewards. Now you can focus on burning rules.
💡 Note: Burning rules are defined at the program level and can be added or modified by any user.
How to configure a burning rule
Burning rules allow members to use their points to redeem promo codes and, ultimately, obtain rewards.
In order to configure a burning rule:
Go to your loyalty program.
Tap the Burning rules tab in the top menu bar.
Choose Add rule at the top of the page.

Rule name – Write down what this rule does and/or what it will be called so that you can easily find it again among other rules. The "rule name" is displayed only in the back office, to help you distinguish between the rules.
Reward – Select a reward and set the number of points needed for eligibility to burn. Learn more: How to set up the rewards?
Criteria – You can apply a rule to all members, or to just one or more segments. Set criteria based on which a member may burn points in exchange for this reward. For example, Belgian members can get a discount of 10% and Finnish members can get 20% off.

Description – Provide a brief description that explains the rule. Please be mindful of what exactly you enter in this field. The text will be shown in the member portal ("Transaction history") when this rule is applied.

When it's done, click Save.
You can define as many burning rules per program as you want.
Member view
From the member's point of view, the accumulated points can be redeemed for any chosen reward. When the member redeems points for a reward, the points are debited from their account.
Rules priority
Burning rules are ordered by priority. The priority of the rules allows you to specify the exact order in which the rewards are displayed in the member portal, by dragging and dropping them into order. If you want a reward to be displayed first, drag the corresponding burning rule in the list and place it at the top.
New rewards and burning rules are automatically placed at the top of the list.
Reward history
The "Reward history" widget shows the historical data of rewards and promo codes received by a member. Their reward history is thus accessible by logging into your loyalty program — that is if you chose to make it appear on your portal.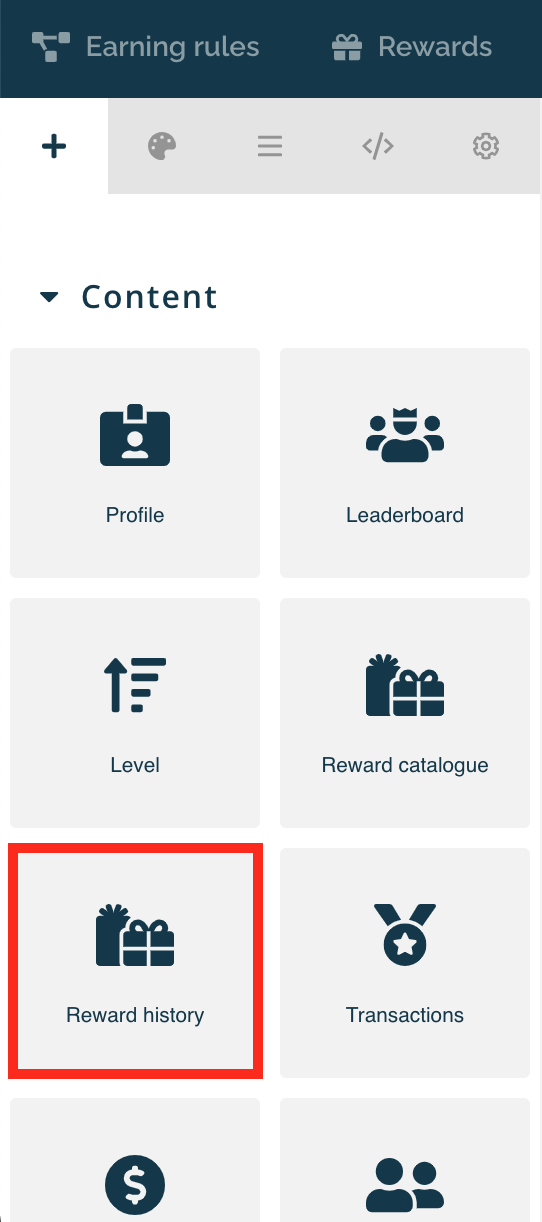 After this configuration in the Editor, you need to publish the new version of your portal using Save and then Publish.
That's it! Hope it was clear and interesting :) If not, please contact us and we'll gladly help you with your requests and questions.