Use the Opt-ins Performance Dashboard to acquire greater insight into how well your opt-ins are performing. Learn to use this dashboard to determine which campaigns are collecting the most opt-ins and grow your email list with confidence!
In this article:
How to view your opt-ins dashboard
Open the Opt-ins tab from your account
Click Statistics to view the analytics dashboard: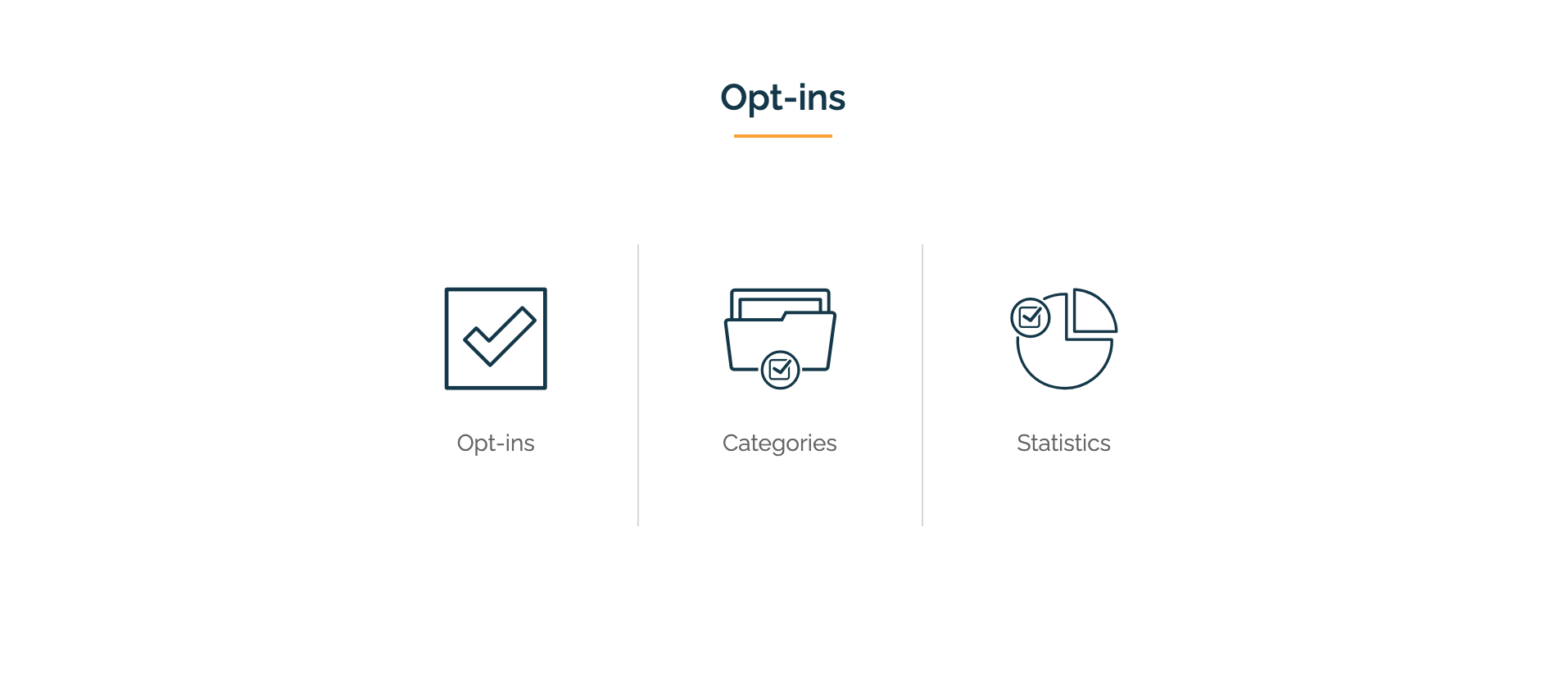 Note:
Remember, opt-ins are collected in campaigns. Therefore, you may have 10 opt-ins collected in three separate campaigns.
Filter your dashboard
For convenience, you can filter the metrics to preset date ranges (e.g. last 7 days or last 30 days) or choose a specific timeline.
Go into detail on each opt-in, website or campaign.
You can also filter your dashboard by category and/or subcategory, as well as by type of participants (all participants or new participants only).
To filter your dashboard, use the dropdown menus at the top or select the opt-ins and/or websites and/or campaigns you wish to display:

Note: Applying filters will adjust all the charts in the dashboard.
Understanding your opt-ins dashboard
Each section of the dashboard has its own useful purpose. Let's dive into the details of the available statistics here.
Important: Opt-in data is stored since January 1, 2018.
Opt-in categories report
In the opt-in categories report, you can find global data on your opt-ins collected. This section indicates the total number of opt-ins collected, and it also calculates the overall conversion rate.
Please note that, in the Opt-in categories report, the figures are cumulative and will therefore present the gross number of opt-ins collected cross-campaigns.
E.g. if John Doe participates in campaign A and select the Newsletter opt-in, the same John Doe then participates a month later in campaign B and ticks the same Newsletter opt-in. This will count as 2 Newsletter opt-ins and not one.
Important: The opt-in conversion rate is determined by the number of conversions made divided by the total number of opt-ins shown in your campaigns during the selected period of time.
The metrics displayed here are based on the opt-in's category:

What about double opt-ins? Due to the nature of a double opt-in, opt-ins will not be taken into account if a double opt-in is not confirmed. Learn more about setting up double opt-ins in Qualifio.
Opt-ins by campaign & website
Opt-ins by campaign & website calculates your top ten websites or campaigns ranked by the number of opt-ins, so you can see which of your brands and campaigns were the most effective.
By hovering over each chart, you can see the total number of opt-ins collected on a specific website or campaign and for each category.
Configuring your filters to apply specific categories will adjust your card to display the analytics for your filtered categories. You can also click any chart bar to drill down and display details on that particular segment.
These charts can provide insight into the specific campaigns generating the most number of opt-ins. You can then utilise this information to better understand what kind of content gives you the best conversion rates, so you can adapt your strategy for exponential list growth and improved engagement.
Opt-in conversions over time
Opt-in conversions over time provides a look at your historical opt-in collection. Use the filters at the top of the widget to modify the interval (daily, weekly, monthly, quarterly) and to show subcategories in the graph. The time range of this graph will always mirror the time range specific at the top of the page.
Within each date, you can view further details about the opt-in category and conversions created for the specified interval.
Exporting your opt-in stats
To download the entire dashboard, select the export button at the top right. This opens a dialogue box that allows you to select PDF or PNG as your download format.
To export any opt-in chart, click the export button, located toward the top-right corner of each widget:

And that's an overview of the Opt-ins Performance Dashboard! This dashboard is available right within the app without having to integrate without any third-party analytics tool. However, if you'd like, you can integrate with Google Analytics so you track and measure opt-in conversion goals.
But wait, there's more…
You do more than just collect opt-ins with your campaigns. Wouldn't it be nice to know how these stats are intertwined with other statistics across your account? We think so too.
Within the Global Stats dashboard, you'll be able to find out things like what formats and sources are giving you the most leads. For more information, refer to our Global Stats documentation.
How often does the dashboard update?
Data is processed and the opt-ins dashboard is updated every 24 hours.