In order to make an Advent calendar,you have to follow the following steps :


Choose the dates of your calendar
Dates you set in the publication channel step will define you calendar's number of doors. 1 door will be displayed each day of your campaign.

Note : « 00h00 » In time selection corresponds to the first second of the day. In our example above, the campaign will o Begin the 01/12/2018 at 00:00 and 1 second (AM) o End the 24/12/2018 at 11:59 and 59 seconds (PM)
Our example will have 24 doors
Define the look and feel of you calendar
Specific templates with different options to display dates are available for Advent calendars, . Select the template that is the most adapted to your campaign.





Your calendar will display the game zone : you can customize its position.

Set up your doors
For each door of your calendar, you can display:
A Qualifio campaign


Campaigns which publication dates correspond to your calendar are available in the dropdown list . You can display a diferent game every day of you calendar.




A customized URL


Type the URL adress where your participant will be redirected
For all doors
Select how each link or campaign will be displayed :
_blank : Opens in a new tab
_top : Opens in the current tab +
_self : Opens in the campaign Iframe I
Choose graphic settings for your calendar
Define if doors are open only on the current date or if past doors also stay open.

Choose the look and feel of your doors :
Closed door : When the door is not available yet (not the good day)

Open door: When the door is available (the good day)

Mouse over : When your mouse is on the open door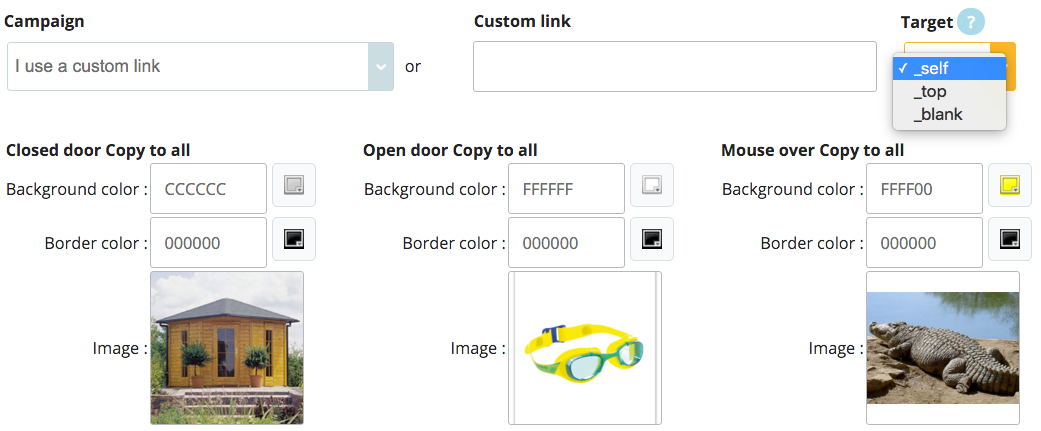 Define if doors are opened only on the current date or if past doors also stay opened.
To repeat the appearance of your doors click "Copy to all"
Example of the look and feel of a door (20/05/2016) :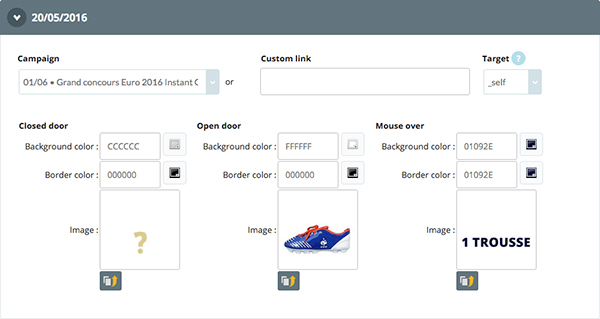 It will look like this (if we were testing the calendar on May 20, 2016) :

The hover effect of the open door

Go further :
How to change the image for each past door


Virality
Configure viral options of your campaign by filling the different sharing fields : title, baseline, description and thumbnail that will appear on Facebook.
Other viral options are available. These options are similar to the classic campaign.