You might have seen some TV game shows where a person spins a wheel to get a prize. Do you want a similar campaign for your visitors? If yes, then you have come to the right place! In this tutorial, we'll show you how to create a wheel of fortune in Qualifio. Let's get rolling.
How it works
Qualifio's wheel of fortune format is a "lucky wheel" or "prize wheel". Participants can spin it for a chance to win certain prizes or discounts. Not only is it fun, but winning something will make your visitors feel special – like it's their lucky day!
Try our wheel of fortune demo >>
This slideshow provides easy to follow, step-by-step instructions, demonstrating how to create a wheel of fortune using Qualifio:
Step 1
Open Qualifio and log in. Or click the Campaigns tab if you're already logged in.
Then go to Create a new campaign > Instant wins and choose the Wheel of fortune format to get started.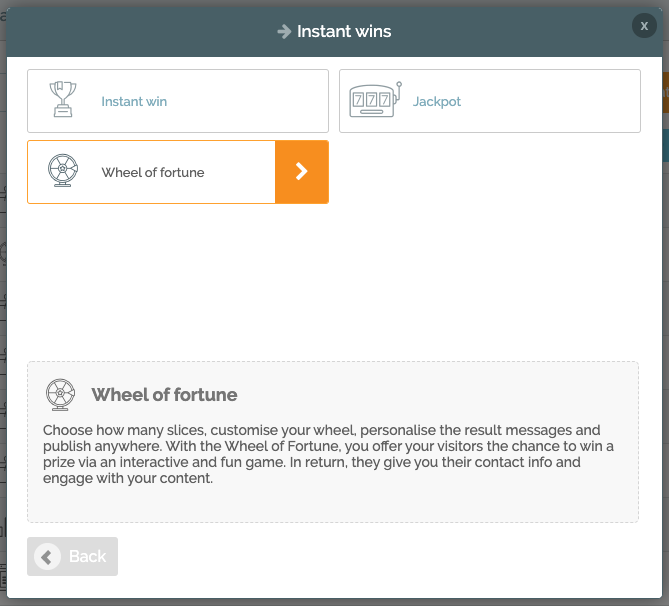 Step 2
Write a title for your campaign at the top of the Channels step, and select a site to publish it to.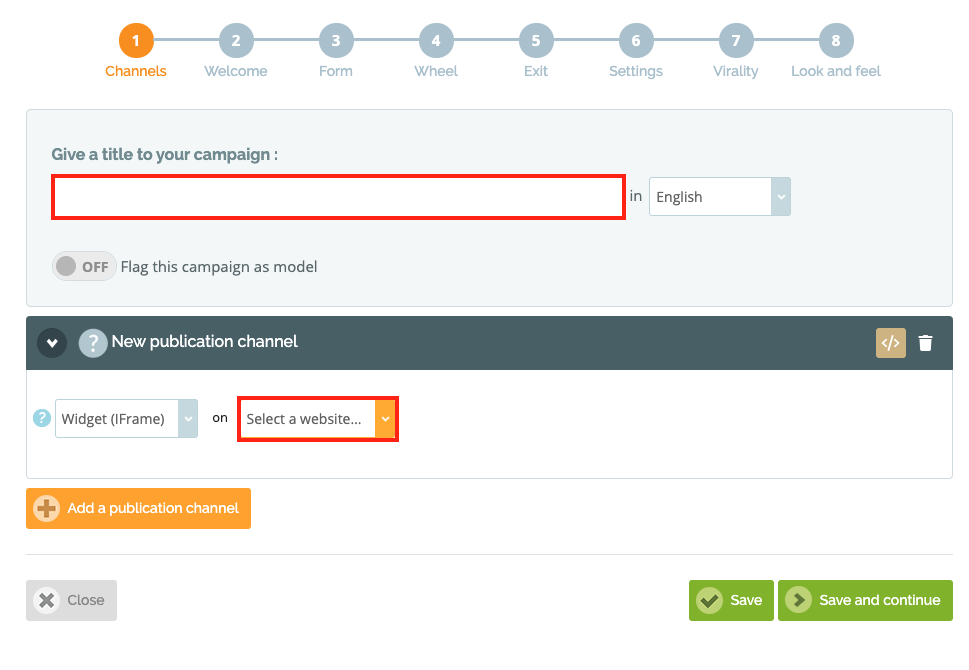 Step 3
A wheel of fortune invites visitors to try their luck and win an instant prize. Just like with other instant win games, winners are picked automatically. Therefore, participants will know immediately whether or not they have won and will not have to wait for a specific date and time for the results to be announced.
Start by going to Welcome and building your campaign's welcome screen (optional). You can add your own heading, sub-heading and paragraph text. When you're done, save the step and continue.
If you would like to also edit the text for the "Participate!" call to action, check out the Look & feel step.
Step 4
Then, to specify the prizes to include in your wheel, create the items you will have (under the Prizes step).
How are winners chosen?
Qualifio currently offers three different methods to allocate prizes in a wheel of fortune campaign:
Via the prize calendar, you get to pick the winning moments for each prize before the contest begins. Then, Qualifio automatically picks winners based on their participation time. It works like this: the first person to enter the contest after the winning time has passed will receive the prize.
With the winning probabilities, you set the odds of winning and Qualifio automatically awards different prizes based on the odds you set. The "probability instant win" format allows each and every participant to win, depending on the win/lose ratio you choose. You can read much more about that here.
Finally, it is also possible to award a unique prize to each participant via a secure token, based on their previous interactions with your brand and their specific status in your applications.
Mixed method approach: a contest that awards instant prizes can combine various prize allocation mechanisms. The priority will be given to the calendar (is a prize available at participation time?), then to the probabilities (if not, we roll a dice). The same prize cannot be allocated via multiple methods.
Step 5
Add a Form to your campaign. To get started, participants will need to enter their contact information (email address, phone number... anything you want to ask them!)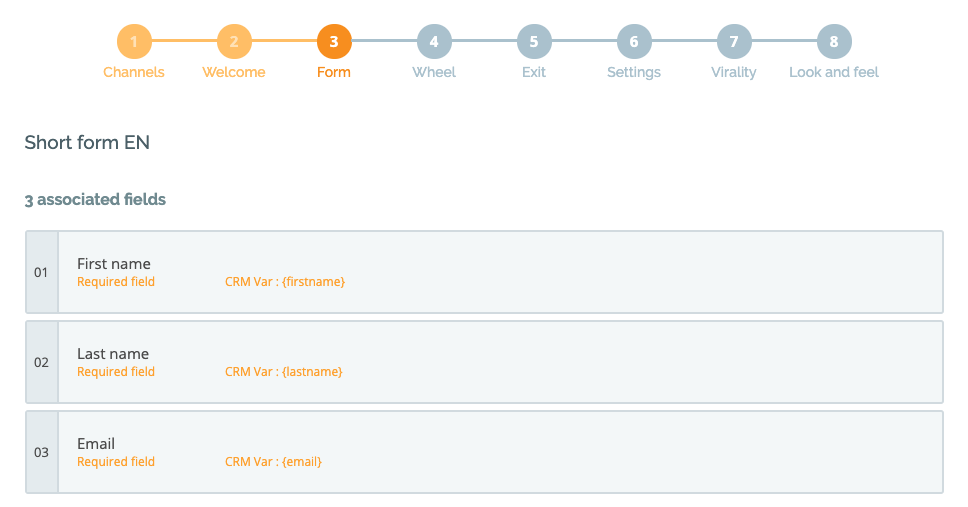 Step 6
Continue to the Wheel step to choose the number of segments on your wheel. Then, click the Create my wheel button.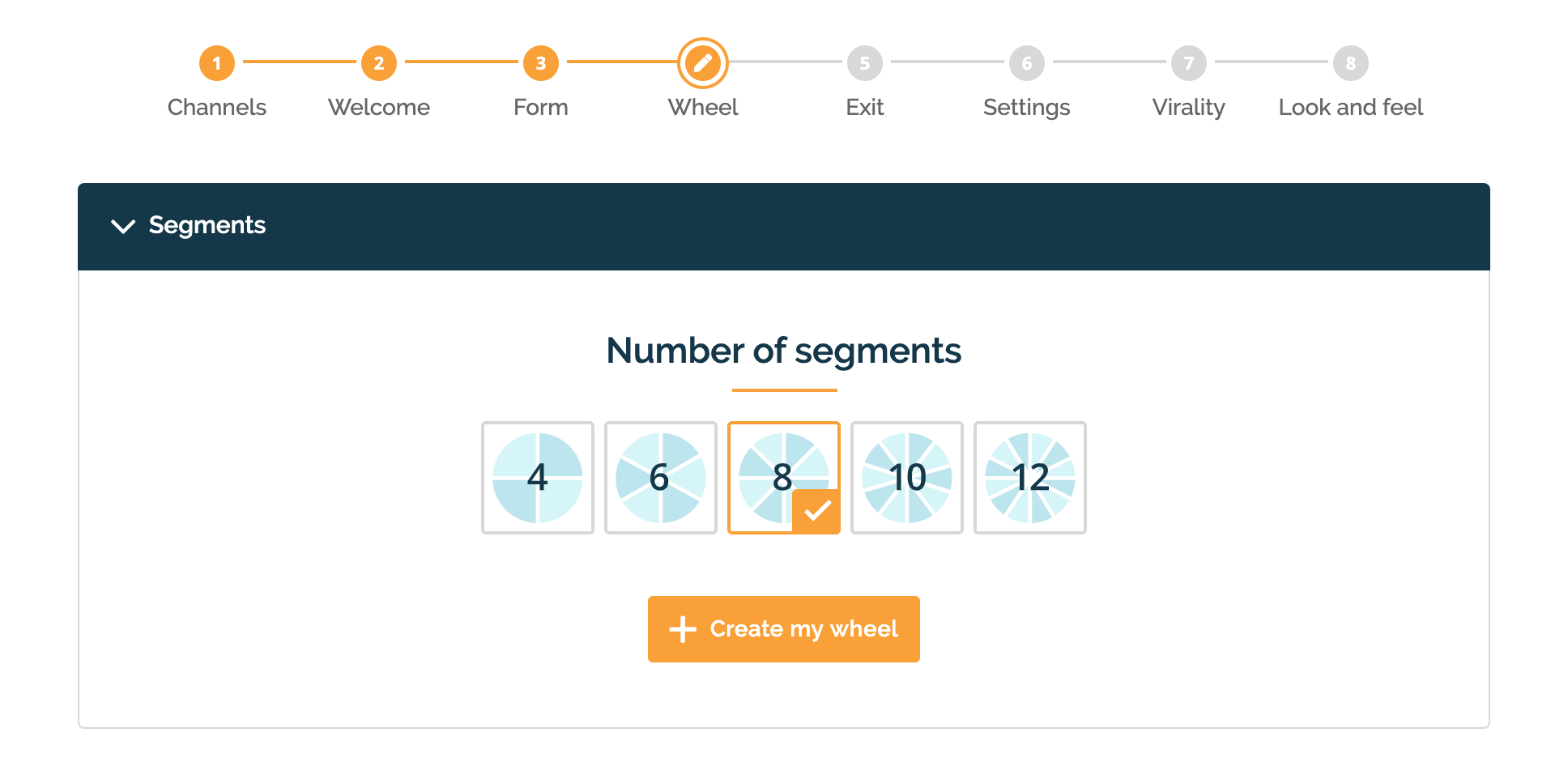 Step 7
A wheel has up to 12 segments, each of which can contain different prizes. You can select the colour and choose an image for each segment of the wheel, including the winning and losing segments.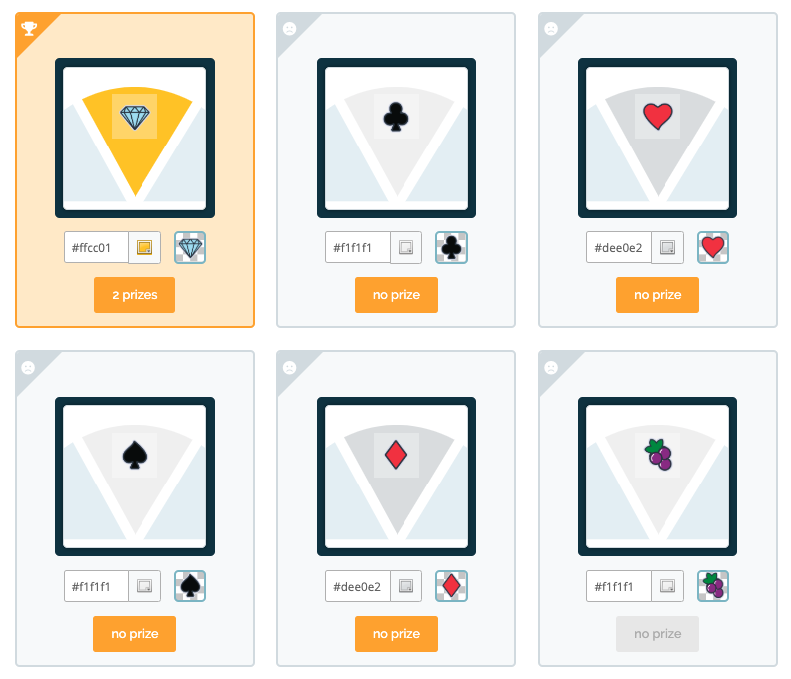 Click the prize button to determine the prizes for each of the winning segments: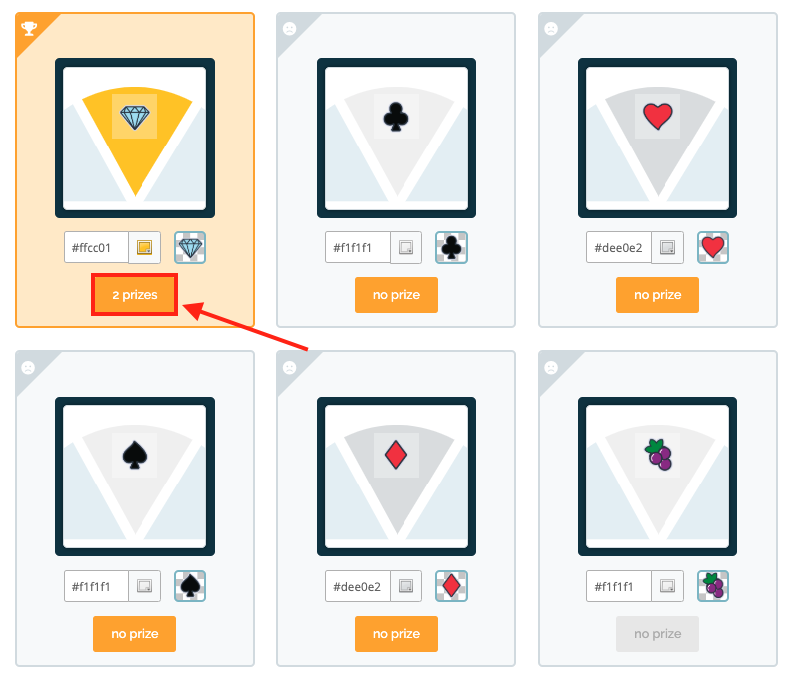 This will open a modal in which you will be able to select a segment for each of the prizes you have added to your campaign: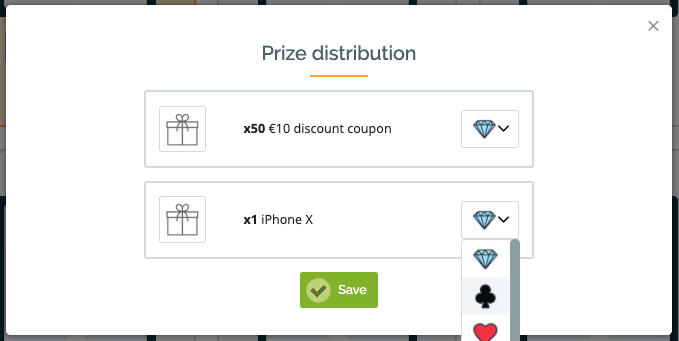 Write a hexadecimal colour code (#000000) for each segment or colour them using the colour picker.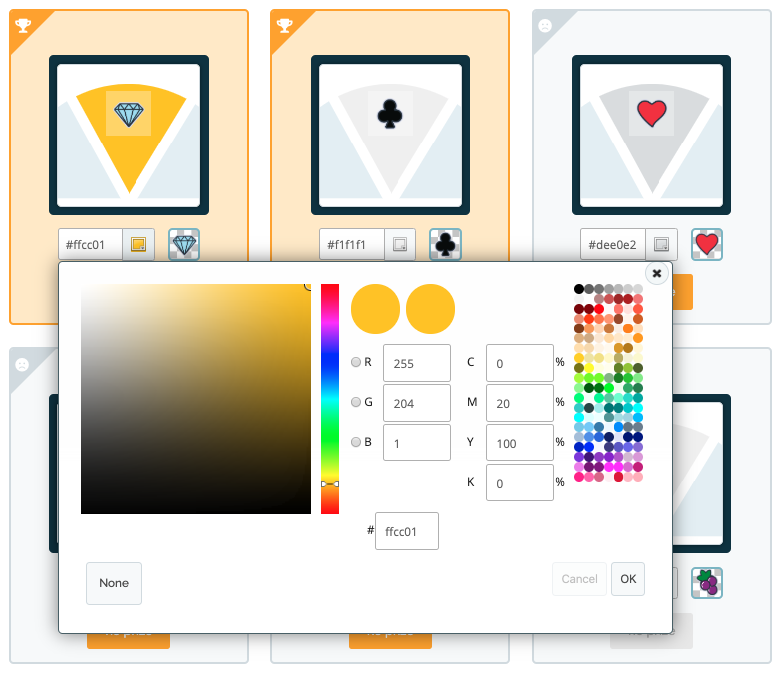 Upload your images to make custom segments.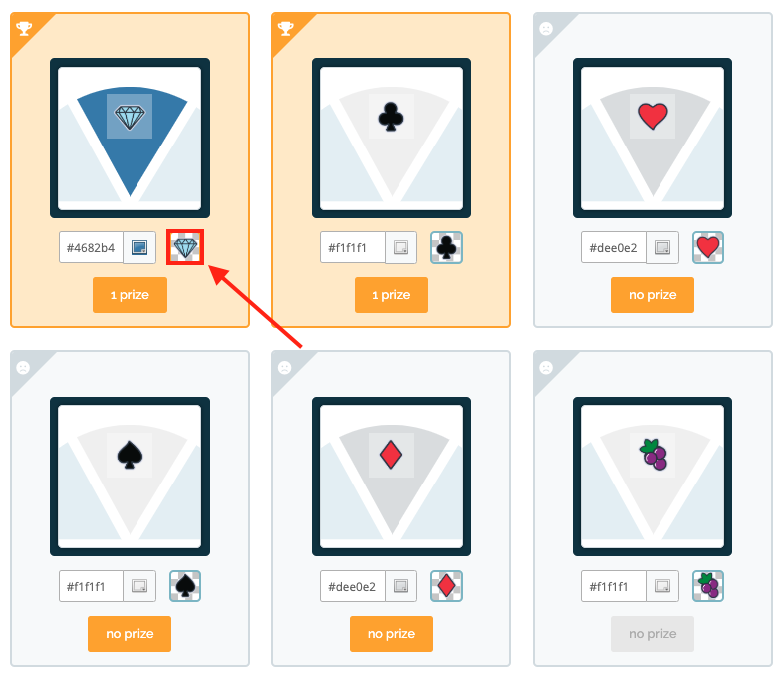 Step 8
You control the wheel's look and can customise its appearance to suit your style.
Either pick a predesigned wheel and arrow...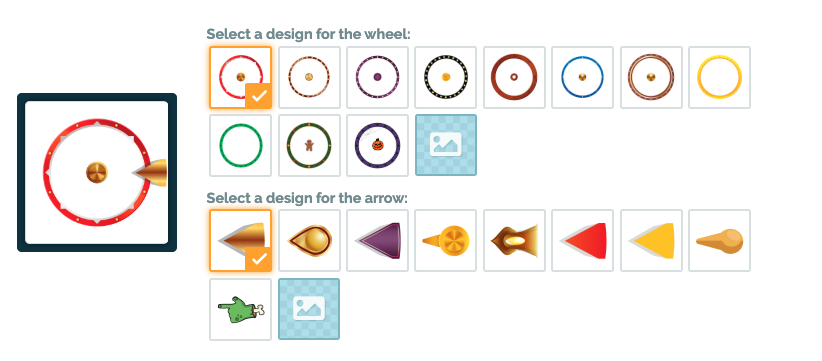 ...or upload your own wheel and arrow designs, which you can create using Illustrator or Photoshop (add your design to our AI/PSD mockups). Download our mockups >>
Step 9
You can add a simulation wheel (losing demo) with this setting:

The simulation wheel will be shown on your campaign's welcome screen. That way, it will be the first thing users see.
Step 10
Personalise the exit messages according to participants' results.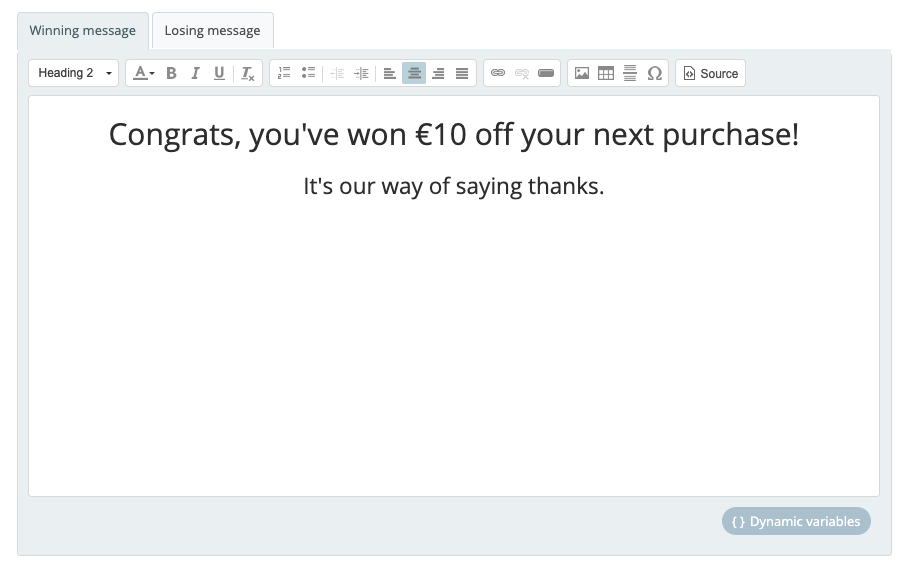 In the event of a dispute, a screenshot of the wheel is not proof of winning participation. A participant is not a winner, even if the wheel should so indicate unless they have been shown the winning message.
On the same page, you can also automate emails to the winners.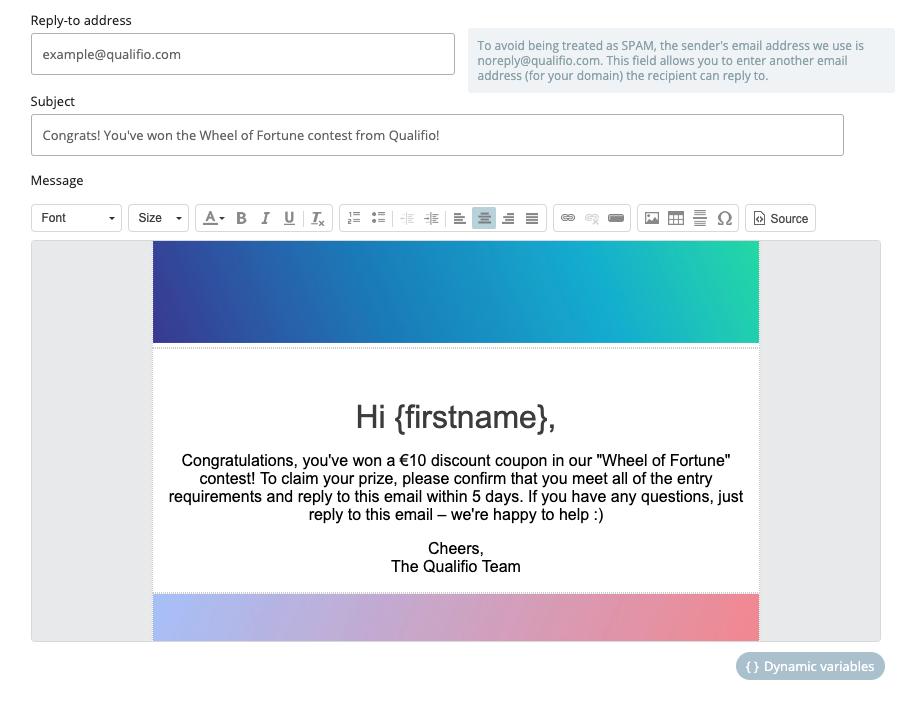 Step 11
Go to Look & Feel. There you can select a template or click the Change campaign look & feel button to fully customise the look of your campaign so it reflects your brand. Don't forget to save your changes.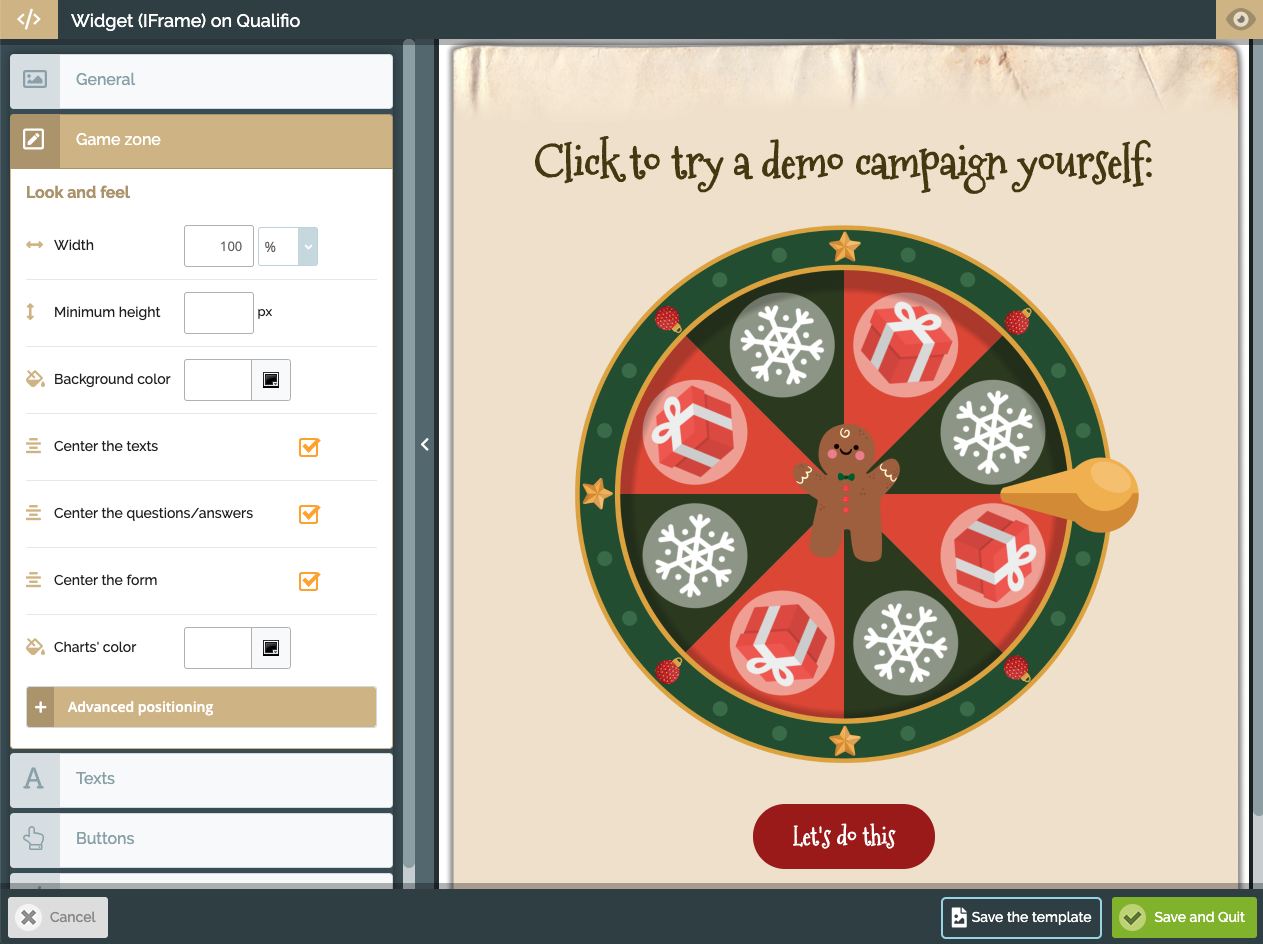 Congratulations, you're done!
FAQs
Can I change the number of segments in the wheel?
The number of segments is the first thing you will be asked upon the creation of the wheel. However, once chosen, this setting is final. If you want to change the number of segments later, you'll need to detach the wheel and start over.
Can I test the wheel of fortune without winning a prize?
Yes. You can test both the winning and losing screens by participating two times in a row with the same credentials. When doing so, please be mindful of any participation limits that you may have applied to your campaign.
Does it work on any channel?
Yes. The wheel of fortune is easy to set up as a widget for your website. Simply copy and paste a couple of lines of code anywhere on your web page. But you're not limited to your website. No matter what platform you're on, you'll be able to publish your wheel of fortune (as long as you have an Internet connection).
Will it work on both desktop and mobile devices?
Yes. The wheel of fortune campaigns automatically adapt by shrinking things and moving stuff around when participated in on smaller screens.
What happens once all prizes behind a winning segment have been allocated?
If a winning segment has no prize available anymore because they've all been won by the previous participants, the wheel won't stop on this segment.
More features
If you have any questions regarding this tutorial, don't hesitate to contact Customer support.